Neneh Cherry: style icon, Buffalo girl and Wallpaper* Design Award judge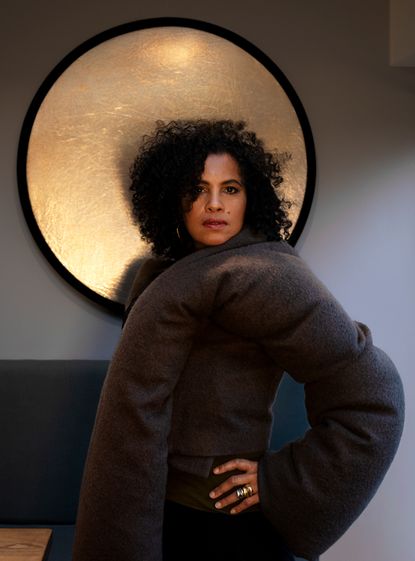 (Image credit: Hannah Starkey)
You can argue that Neneh Cherry put an end to the 1980s. Her 1989 debut album Raw Like Sushi, a delirious mix of hip-hop inflected pop, was at once a full stop and an important musical marker for the decade ahead. Thirty years later her new album Broken Politics, a collaboration with Four Tet's Kieran Hebden, is more reflective but just as timely and urgent. 'The album is about feeling broken, disappointed and sad but having perseverance,' she says. 'It's a fight against the extinction of free thought and spirit.'

Now in her mid-50s, Cherry has impeccable international bohemian credentials. She was born in Sweden to a painter and textile artist mother and a Sierra Leonean musician father. Her step father was the trumpet player, long-time Ornette Coleman collaborator and world fusion music pioneer Don Cherry. The family moved to the States in the early 1970s and Cherry arrived in London at 14 just to get in time to throw herself into the punk and post-punk scene, singing with a number of bands including the Slits and Rip Rig + Panic.

By the late 1980s she was a key member of the Buffalo collective of stylists, models and photographers who all but defined London's street style of the time. Like most of our judges, she picked out Porky Hefer's The Nest for Best New Private House and Rick Owens for Best Women's Fashion Collection. We felt there was no one better to personify Owens' take on thoroughly contemporary power dressing.
View the Wallpaper* Design Awards 2019 here

As originally featured in the February 2019 issue of Wallpaper* (W*239)