Motoring theatrics: Porsche reveal the 911 Targa GTS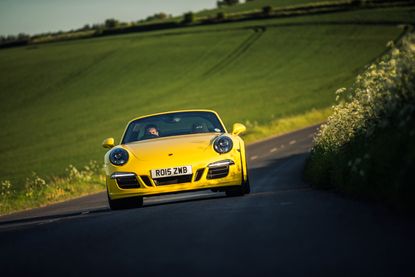 (Image credit: Porsche)
Walk into any Porsche showroom and one thing you won't be stuck for is choice. The brand prides itself on offering its clients a mind-boggling array of options – from trim spec to component upgrades, colour palettes, on-board gadgetry, etc. And then, of course, you have to specify the model itself. Porsche knows full well that that individuality is important among its taste-conscious owners.

Now, the Stuttgart powerhouse has chalked up another tempting morsel onto its ever-expanding specials board. The new 911 Targa GTS harks back to the unapologetically rakish 911 Targa from the late 1960s. Updated in the mid-90s, the Targa maintains a half-and-half approach to open-top motoring.

The original Targa was developed to accommodate impending US safety regulations that would have mandated a roll bar on all convertibles for passenger safety. The US was then a prosperous hunting ground for Porsche, so the rumour was heeded and engineers set to work. As technical misjudgements go, this one was inspired and the result – a ribbon of stainless steel and a fully glazed rear section – became one of the iconic forms of Porsche design.

The all new 2015 model is a combination of retro styling and hi-tech engineering, specifically in connection to the retractable roof mechanism. This is worth paying special attention to, for in just 20 seconds of electric theatrics, motors engage to lift the rear window clear while the unwanted roof panels are folded away into a dedicated storage hub. The rear window then gently glides back into position.

Aesthetic beauty is unimpaired, but the additional weight of the roof gadgetry does impact performance figures slightly (although 4.7 seconds for 0–62mph and a top speed of 188mph should suffice for most people).

The overall sense one gets from driving the Targa GTS is one of complete assurance. The needle sharp handling dismisses any fears of a weight issue and the 430 hp produced from the 3.8 litre six cylinder plant will rarely leave you wanting. The Targa isn't an out-and-out racer, nor was it designed with earth shattering performance in mind. Instead, the Targa reflects its refined and stylish roots. That's not to doubt its capabilities as a driving tool – engage Sport Plus on the centre console and the rasping and backfiring exhaust note wills you on hypnotically as everything tightens around you to remind you this isn't all about sunglasses and covetous glances. Conversely, pop the Targa into pootle mode and you could be calmly chauffering your two (small) children to a school music recital. Flexibility is everything and the W* car pool is a much poorer place for the Targa's departure.
INFORMATION
Porsche (opens in new tab) 911 Targa GTS, from £104,385. For more information, visit Porsche (opens in new tab)'s website (opens in new tab)