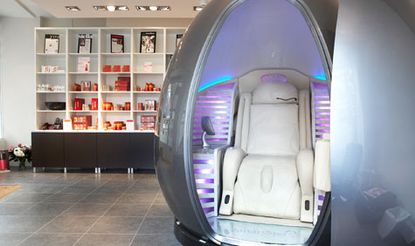 (Image credit: press)
Shopping-worn feet pounding pavements around London's Marylebone High Street, now have a state of the art sanctuary to retreat to. This month, the capital's queen of feet, podiatrist Margaret Dabbs has opened a flagship clinic on New Cavendish Street.
Designed to be ultimate environment in which to prime, pamper and perfect extremeties, toes will be pointing in its direction voluntarily.
Already practising in prime grooming locations around the city, including Harrod's Urban Retreat, Fortnum and Mason's spa and the Hurlingham Clinic, Margaret Dabbs has made a name as someone who cares supremely for all foot needs - for the clinical health and wellbeing as much as the cosmetic finish.
Extending the care to hands, she launched a comprehensive range of manicure and pedicure products in 2004 based around Aborignal cosmetic cure-all, emu oil, which offers anti-bacterial and anti-inflammatory aswell as nourishing properties. Treatments range from verrucae removal (£75) to highly indulgent massage and pedicure (£60) which use fresh new nasties-free varnish range Rococo.
Here in this new space care of the extremities is supplemented with relaxation therapies. The ground floor is dominated by a large egg-shaped oxygen pod fitted with a massage chair, night sky, Vivaldi and an oxygen feed. For 15 minutes, ideally while nails are drying, you can forget the mayhem outside. We'd use it just for the much needed respite from retail at this time of year.
Melina Keays is the entertaining director of Wallpaper*. She has been part of the brand since the magazine's launch in 1996, and is responsible for entertaining content across the print and digital platforms, and for Wallpaper's creative agency Bespoke. A native Londoner, Melina takes inspiration from the whole spectrum of art and design – including film, literature, and fashion. Her work for the brand involves curating content, writing, and creative direction – conceiving luxury interior landscapes with a focus on food, drinks, and entertaining in all its forms