Smile for Lily: the new camera drone with altitude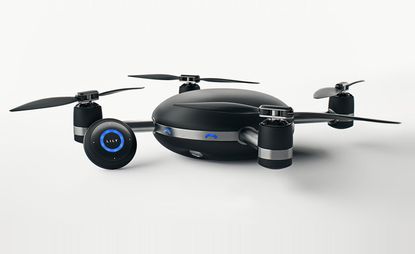 (Image credit: Lily Camera)
Amidst the hotbed of drones ready to hover above our heads, Lily is getting a lot of love since its premiere at the CES Technology Fair in Las Vegas earlier this month. Part of a new generation of 'throw and shoot' cameras, Lily is shaped like a mini-mutant UFO, playful and gracious to watch; especially during the palm landing phase.

It's also wonderfully easy to use: you toss it up into the air, it steadies and hovers above, capturing your movements seemingly by magic. Behind the ghostly specter of voyeurism lies the controller which allows Lily to follow you, regardless of whether you are walking, running or jetting about.

The small round tracker fits in your pocket (or be packed in the special, bulky wrist case provided by Lily Robotics) and combines advanced computer vision algorithms and GPS. Lily can either film your every movement in smooth footage, or shoot high res still images with its 12-megapixel Sony Sensor action cams – the same than the GoPro Hero 3 or Ioan Air Pro 3 use. The Lily drone can go into fancy loop, slow-mo, zoom modes, or opens its view to a 360° panorama. Waterproof, it doesn't fret the rain, and will last 20 minutes until its next charge. You can control it with an app, but its mainly programmed to aureole you stubbornly. Live 1080p video (at up to 60 frames per second or 720p at 120 fps) can be synced to a ground audio recording: the tracking device has a handy built-in microphone.

Slated to be widely available come August 2016, the Berkeley lab-designed drone's tech improvements can be charted daily online.
INFORMATION
Pre-order until 12 May, $799 -$999. For more information, visit the Lily Camera website (opens in new tab)