Understanding the subtleties of Japanese artistry in Lexus' 30th year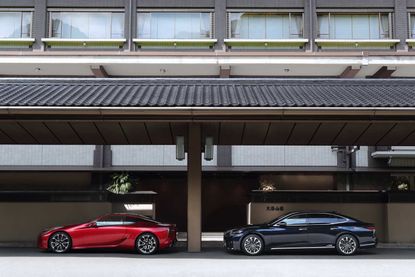 (Image credit: Lexus)
It's late afternoon at the Daizaifu Tenmangu Shinto Shrine, just outside Fukuoka in southern Japan. The rainy season has officially begun, but luckily the evening remains dry. One of the meticulously kept traditional Japanese buildings on the shrine grounds has been transformed into a one-night-only restaurant, a stunning bamboo forest populates one of the adjacent small tatami rooms; a magnificent floral installation takes up another. The tables are laid with starched white linens, a selection of stemware and freestyle ikebana displays. The setting alone promises a unique experience, and this is even before chef Goh Fukuyama, from the two-Michelin-starred La Masion de la Nature Goh, doles out a 11-course dinner paired with local wines, Tequonic (Japanese tequila mixed with green yuzu), and Asakura barley shochu.

The evening is the culmination of an immersive Japanese cultural experience hosted by Lexus, which has taken the lucky guests from Nagoya (starting with a tour of the usually off-limits Design Dome at the Toyota HQ) to Tokyo via a unique stay at beautiful Japanese ryokan in Yamaguchi, a tour of Japan's largest Miyata manufacturing plant in the north of Kyushu, and a modern tea ceremony in Fukuoka.
At the Design Dome, general manager of the Lexus Design Division, Koichi Suga explained the Lexus design philosophy ('leading edge design and technology applied with finesse') and introduced us to some of the unique craft traditions incorporated into the making of the cars by master Takumi craftspeople, like the kiriko glass inspired door inserts and hand-pleated silk door panels, both available as add-ons for the Lexus LS sedan. There was also a full-scale clay model of the Lexus LC Convertible (still only a concept car, but rumoured to be coming soon). Yoshitaka Yamamoto, one of Toyota's most experienced clay Takumi, was at hand to show us how he carefully finalises the ideal shape of a car with his array of small trowels and rakes.

At the Lexus manufacturing plant just outside of Fukuoka City, we witnessed the precise choreography of dedicated employees and clever robots as they fit the roughly 30,000 parts that go into a car. The slow, but steady flow of cars on the production line is mesmerising. More than 1,800 cars are made per day, and just contemplating the level of planning and logistics is enough to make your head spin.

En route we got to test-drive a few Lexus models. I struggled hard to stay behind the sensible driver of our leader car as I sat behind the race-ready wheel of a deep blue LC500 hybrid. This car is not meant to be kept at the slow 70-80 km/h limit enforced on most Japanese roads. The more sensible UX250 hybrid is better-suited to a leisurely drive and equally pleasant to steer.
In Fukuoka, the morning after we dined at Daizaifu Tenmangu, we were invited to tea at the understated wabi-sabi Yorozu Tea Salon, where the charming owner, Suguru Tokubuchi gave us an enthusiastic treatise on Japanese green tea. We were treated to a unique kind of local Gyokuro sencha, of which only about 4kgs is produced every year. It's brewed in gradually warmed water (from 35 to 90 degrees Celsius) to bring out its many unique properties, from almost sweet through astringent to pleasantly bitter.

Understanding the subtleties of a unique culture like Japan's of course takes longer than a few immaculately planned days like these (I have been here 17 years, and still don't get it all). But there is no doubt that many of us left with a deeper understanding of Japan, and just how this fascinating culture, with its attention to detail and wonderful hospitality, is integral to Lexus and their continued pursuit of extraordinary experiences.
INFORMATION