Lexus combines an appreciation for gadgetry and Japanese craftsmanship in the LS 500h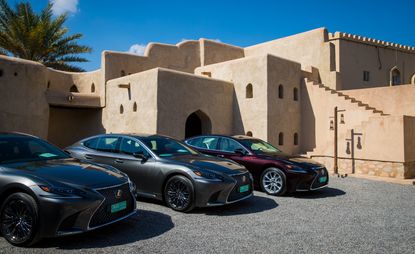 (Image credit: Lexus)
The cabin is remarkably quiet, bar the gentle hum of the air-con. The electric-hybrid engine powering this latest Lexus LS 500h is also smooth, and so we drive gently and in silence as the world around us echoes with construction work. We are in Oman heading towards Muscat where some major road expansion plans appear to be in order. And what could have been a gruelling nine-hour drive through the Al Hajar mountain range and vast empty lands, dotted with the odd truck and lonely camel, has been particularly gentle.

This is the fifth creation in the Lexus LS executive limousine family. It is the marque's pinnacle car, and a hugely important model for the company. Though competition here is high, with Mercedes, Audi and BMW dominating the market with the S-Class, A8 and 7 Series respectively. Lexus is positioned here as the seductive alternative.

Design, therefore, is firmly concerned with eschewing perceived conventions for premium cars. Chief designer Koichi Suga says the key was to move away from the typical three-box design to a coupé-style silhouette. He offers this in explanation, 'our goal was to create a car that is longer, lower and wider with a more powerful presence,' which was achieved through the latest Lexus Global Architecture of Luxury (GA-L) platform that allows for such dynamic proportions. 'Our sketches were drawn with an emphasis on a flowing silhouette and large tires,' these being 20-inch alloys replete with noise-reduction technology.
The LS looks quite edgy due to these sporty proportions, as well as the bold and expressive spindle front grille design here flanked by compact, narrow, slit-shaped triple-LED headlights – a design subtly echoed at the rear. The six window profiles have flush surfaces and a slim panoramic glass roof opens externally to flood our car with a great deal of natural light.

Lexus sees itself as the pioneer of a new visual vocabulary that expresses modern Japan's advancements and obsession with gadgetry as well as honouring the intricate craftsmanship of old Japan. So, the LS interior is almost a gallery for the marque's artisan skills.

For instance, it took four years to perfect 'hand pleat', the origami-style fabric pleating technique that can be specified for the door panels and on higher-spec models. It requires individual sheets of fabric to be folded so that the finished three-dimensional panel changes appearance from day to night and with ambiance cabin lighting. The process can only be carried out by the expert Lexus Takumi craftspeople who have over 25-years' experience.

The hand pleat feature appeared in the car we were driven in the previous night. The LS is a car that will typically be chauffeured in certain parts of the world, like here in the Middle East, and so we needed to experience it as rear passengers too. This Premier trim model also comes with an ornamental glasswork panel based on the ancient Japanese 'kiriko' glass-making technique which plays with and reflects light. Finally, the 'art wood' finishes use a precise technique of working with timber veneers to imagine new patterns. One option works with laser technology to cut through the veneer to expose a sub-layer of metal so the pattern resembles the way the Lexus L-motif is embedded in the signature Lexus spindle grille design.
The grille theme, we also learn, is inspired by the artwork of old Japan as an intricate mesh with 5,000 individual surfaces (7,000 on the pinnacle F-Sport) taking six months to master by skilled Lexus CAD modellers. Chief designer Suga says when we enter the car he hopes that we have 'an immediate sense that we are looking at an interior that's unlike any luxury car you've seen before.'

The LS cockpit is a driver-focused space with all functions in direct view and reach of the driver which can leave the front passenger a little lonely. A flowing metal structure dominates the dashboard and conceals the air vents. Most trim levels come with soft, comfortable heat-adjustable seats. There is plenty of leg and head room, especially for rear passengers who can adjust height, slide, recline and enjoy fold-down screens and 19-speaker Mark Levinson stereo. In the car we were chauffeured in, my co-passenger also got to experience the ottoman function that lowers the front passenger seat headrest to smoothly move the seat for over a meter of legroom, ideal for when the car is chauffer driven. Finally, there is a menu of specialist shiatsu massage with thumb-like pressure for all occupants to enjoy.

The LS is bursting with technology. The latest Safety System+ A, for instance, offers a host of features such as CoDrive; an invisible co-pilot of sorts that will keep the car in its lane if you just lightly touch the steering wheel, and switches between lanes if the driver holds the indicator in its halfway down position. Lexus also offers a more advanced pedestrian safety system that can swerve and brake to avoid a collision, as well as a reverse monitor that can differentiate between pedestrians and static objects.
The LS 500h mixes a 295bhp 3.5-litre V6 petrol engine with two electric motors. Lexus says the combined output is 354 bhp, economy 39.7 mpg and CO2 emissions around 161g/km. The company's advanced Multi Stage Hybrid System drives this car. Its advantage over conventional hybrids is that power from the V6 and electric motor can be amplified by the automatic transmission for greater drive power when accelerating allowing 0-62mph on the four-wheel-drive model to be around 5.4 seconds and a second faster on the all-wheel-drive.

The flagship LS is vital to the marque's perceived value in Europe with the company aiming to increase sales here to reach 100,000 units by 2020 with 99 percent of sales being hybrids. 'Not only will the LS symbolise the Lexus brand,' offers LS chief engineer Toshia Asahi, 'it will become the definitive new generation luxury car, embodying Japanese tradition and culture.'

Lexus is aware that it is competing with heritage brands grounded in strong values. This cannot be easy in old markets like Europe, and in this more conservative of sectors. Yet, Lexus appears to be confident. It certainly isn't afraid not to iron out eccentricity. Its customers, apparently, are more adventurous; they are actively looking for an alternative drive. So perhaps, LS's bold design, technological edge, quirky Takumi craft additions, and omotenashi, the sense of Japanese hospitality, makes this LS a worthy alternative.
INFORMATION
Lexus LS 500h (opens in new tab), from £72,000