Grey Goose Characters & Cocktails bar, London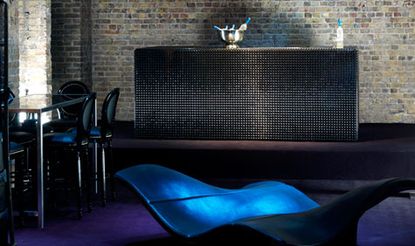 (Image credit: TBC)
Although most past relationships are history for a good reason, we can understand that there are some one just can't let go of. For its Characters & Cocktails project, Grey Goose has had the good fortune of collaborating with some of the fashion world's most recognisable figures to create stunning, one-off bars. In 2007, the vodka brand paired up with Burberry's Christopher Bailey, while the designer of choice last year was high-heel impresario Patrick Cox.
This week, Grey Goose unites its previously designed bars with the new 2009 addition, designed by Roland Mouret, to take over The Gallery at The Hospital Club for just two nights.
Each bar will serve its own unique cocktail created by esteemed mixologists such as drinks pioneer Tony Conigliaro, Allessandra Palazzi of Dukes Hotel Bar and bar legend Peter Dorelli. Bailey's provocatively named 'Stud Bar,' a sleek interpretation of British punk, will dole out the 'Flaming Black Stud' (Grey Goose, blackberry puree and orange liqueur,) while Cox's flashing 'Disco Bar' is accompanied by the flamboyant 'Disco Inferno,' garnished with gold flakes.
Mouret's structured 'Origami Bar' – every bit reminiscent of his elegantly constructed dresses – is sure to pull in the crowds with its Japanese inspired 'Miracle' that's made from Shochu, green tea and mint infused vodka, and finished off with a delicately folded napkin.
We don't need any persuading when it comes to imbibing a cocktail or two, but this merriment is also for a good cause. All proceeds from cocktail sales will be donated to the Elton John Foundation.
ADDRESS
The Gallery
The Hospital Club
24 Endell Street
London
VIEW GOOGLE MAPS (opens in new tab)
Melina Keays is the entertaining director of Wallpaper*. She has been part of the brand since the magazine's launch in 1996, and is responsible for entertaining content across the print and digital platforms, and for Wallpaper's creative agency Bespoke. A native Londoner, Melina takes inspiration from the whole spectrum of art and design – including film, literature, and fashion. Her work for the brand involves curating content, writing, and creative direction – conceiving luxury interior landscapes with a focus on food, drinks, and entertaining in all its forms