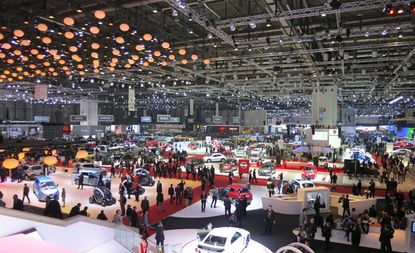 (Image credit: press)
To the casual observer, the 83rd International Geneva Motor Show was all about the showdown between supercar makers, a high noon face-off played out with vast engines, yards of rippling carbon fibre and every technological trick in the book. With international debuts from McLaren, Ferrari and Lamborghini, each vying to outdo the other in terms of sheer outlandish techno-brilliance, the rest of the industry had to take something of a back seat.

As a result, outright innovation was thin on the ground, especially galling at a time of sluggish sales, lost jobs, factory closures and general industry gloom. The job of a motor show is to banish the vicissitudes of everyday life and project a shiny, happy image of progress, brilliance and buoyant optimism. To that end, most manufacturers succeeded, even if excitement was a little thin on the ground.

The luxury sector is still buoyant, and Geneva is a traditional showcase for the more esoteric manufacturers and tuning houses, hell-bent on upping the power output and visual appearance of the major car-makers with exotic limited editions - Startech, Techart, Carlsson, Mansory, AC Schnitzer, Kahn and Hamann were all there demonstrating varying degrees of tastelessness. There was also a raft of boutique sports car and SUV builders on show, all clamouring for a small but lucrative market driven by money from China and the Middle East.

The vaguely patrician attitude that Europe is still the design centre of the world is starting to topple. Geneva saw the world debut of Qoros Auto, an entirely new Chinese brand set to take on the European mass market, with no care whatsoever for the absence of heritage or brand longevity.

So high end or low: take your pick. The ultra cheap car isn't going to go away and burgeoning markets like India, China and South Africa take millions more budget vehicles than they do luxury steeds, even if the latter garner all the attention. We can only hope that the same levels of ingenuity and expertise are applied to making world cars for the masses.

Electric propulsion is slowly seeping into the mainstream, even if sales still aren't where they should be. The focus has shifted to tricks and gadgets, such as in-car internet, which appeared to finally come of age. Bentley's app-enabled Flying Spur, which allows owners to control satnav, temperature and other rear seat amenities from their smartphones, was countered by Ferrari's newly Siri-integrated FF model, complete with integral iPad minis. Ford, Peugeot and Vauxhall all offered internet on the move and better integration for smartphones, Siri and - in the case of Volvo - with Spotify.

Click through the gallery to see our selection of cars and concepts from the 2013 show.
Bentley Flying Spur: The new-generation Flying Spur is a handsome beast, a drastic improvement on its predecessor. Set apart visually and psychologically from the Continental GT Coupe, the Flying Spur is going for all-out luxury, with a sophisticated in-car internet set-up and the traditional lashings of leather and wood
Mclaren P1: Just 375 McLaren P1s will be made, at £866k each. Hybrid powered, carbon built, the P1 goes head to head with a new offering from Ferrari. It has the kind of deeply-sculpted, vented and curvaceous aero bodywork needed to keep this kind of car on the straight and level at such colossal speeds. But we can't help but feel that the P1 - like the Lamborghini Veneno and the LaFerrari - loses in elegance what it gains in performance
Morgan Plus 2: The prize for most tasteful show stand goes to boutique British car-builder Morgan. Dove-grey bodywork, tan leather, timeless lines and the welcome addition of a bespoke Morgan bicycle mounted on the rear... motoring doesn't get more evocative than this
Lamborghini Veneno: Lamborghini will make precisely three Venenos - all pre-sold to customers who presumably consider the McLaren and Ferrari to be rather common. Charitably described as 'striking', the Veneno appears to have fallen out of a billionaire's packet of top trumps: £3m each, outlandish performance and even more extraordinary in appearance
Ferrari LaFerrari: The name isn't exactly user friendly, but Ferrari managed to pull off a good, old-fashioned exclusive with their world reveal at Geneva, generating huge media interest. Like the McLaren, the LaFerrari is hybrid powered and strictly limited (to 499). Intended as a successor to the legendary Enzo, the LaFerrari will help maintain the stiff rivalry between supercar-makers
Rolls-Royce Wraith: A self-conscious step back from the vulgar power squabbles of the supercar makers, the Wraith is still the most powerful and sporty Rolls-Royce ever built. To our eyes it looks the part, although the Deco-esque sweep of that long fastback body isn't to everyone's taste. No one buys a Rolls to make a subtle statement, though, and the Wraith is cinematic in its styling. From £215,000
Spyker B6 Venator: Few companies can pull off lurid combinations of signature design and fancy materials without descending into outright kitsch. Spkyer have always been more adept than most at balancing rich tastes with fine design, and the new B6 carries on that tradition
Alfa Romeo 4C: The 4C has been long-awaited - a cute mid-engined two-seater drafted to be the saviour of the troubled Italian marque. Designed to compete with the likes of Porsche's Cayman S, the production-ready 4C inexplicably ditched its elegant headlights in favour of some awkward plastic units that don't help the car's looks. Still an exciting prospect, nevertheless
Aston Martin Rapide S: Aston has updated their elegant Rapide, re-working the grille and upping the power output of this fabulous four-door

Porsche GT3: The flagship 911, the latest GT3 is verging on the cartoonish, such are the bumps and lumps of its bolstered bodywork. Set next to its new Italian rivals it is almost invisible, making it still the subtlest supercar on the market
Volkswagen XL1: One of the undeniable stars of the show, the XL1 is production-ready car of the future, an electric two-seater with a clean, teardrop-shaped body shell, carbon-composite construction and a host of other tech firsts. VW will only commit to building 250 - the car's sophistication is such that it'll need specialised servicing - but maybe, just maybe, it's a welcome sign of the shape of things to come
Pininfarina Sergio: One of the most famous design houses of all presented their re-interpretation of the Ferrari 458, an homage to both the prancing horse and the company's founder, Sergio Pininfarina. Decked out in 1970s-era red and gold, the open-topped Sergio is true, old-school Geneva
Bertone Jet 2+2: Bertone's Jet 2 was a one-off shooting brake built around the Vanquish model in 2004. Now the company has given the same treatment to Aston's Rapide, creating the four-door Jet 2+2. Big, bold and handsome, the new car (built for a private collector) was displayed alongside the original
ItalDesign Giugiaro Parcour concept: Now part of the VW Group, the famed design house ItalDesign has had a hand in countless beautiful concepts. We can't help but feel it missed the mark with this year's Parcour concept, a crossover interpretation of an iconically angular 1970s-style supercar. It is vast; imagine an Alfa Montreal on a Land-Rover chassis
Rinspeed microMAX: Going all out in the opposite direction to his peers, Frank Rinderknecht's Rinspeed showed the microMAX, a mobile office on wheels designed with an eye to a future of autonomous swarms of multifunctional vehicles ferrying execs from A to B. In comparison, Franco Sbarro, Switzerland's other maverick car designer, brought out a brace of his greatest hits in lieu of anything new. And the autonomous concept resurfaced on Edag's stand and in AKKA's Ling & go concept
Touring Disco Volante: The first outing for this elegant coupe is a welcome one given the brashness of its near neighbours. Carrozzeria Touring's reworked Alfa is a piece of automotive perfection
Roding Roadster: A neat two-seater courtesy of German boutique builder Roding, BMW-powered and built strictly to order, with high-quality carbon bodywork and interior. In stark contrast is Milan-based Soleil Motors's perverse Anadi. The Anadi is a rebodied last-generation Corvette, given an allegedly luxurious makeover and light restyle. The end result is unimpressive, hamstrung by cheap materials, with clashing colours and an absurdly amateurish brochure
Fornasari Gigi: Another firm with a wilful streak of eccentricity. Fornasari showed their Gigi 311 GT, a retro-styled sportscar with potential. The interior-less concept was flanked by the chunky 99 crossover and the brutal, faceted Hunter, invoking the ghost of the late-lamented Lamborghini LM002 from the 1970s
Exagon Furtive e-GT: The name doesn't inspire, but the Furtive was one of the better realised independent showings at Geneva. A four-seat all-electric sports GT, the Furtive bucks the trend by being attractive, practical and tasteful. We'll follow this firm with interest
Tesla Model X: Still a concept, but very likely to make it to production (maybe with more conventional doors), the Model X is Tesla's crossover. The interior is dominated by a dashboard that is like a super-sized iPad
Subaru Viziv Concept: Gullwing doors also feature on the Viziv, Subaru's attempt to inject a little zest into a relatively lacklustre product range. Expect a production-car version within two years, hopefully building on the success of the company's great BRZ coupe
Mitsubishi CA-Miev Concept: As one of the few mainstream makers of pure EVs, Mitsubishi is a technological leader. The CA-Miev concept triples the range of the current production version and adds wireless charging, paving the way for the next-generation electric car
Mitsubishi GR-HEV Concept: Pick-ups aren't exactly big sellers in Europe, and it's hard to see how an all-electric flatbed will light up America's heartland. Nonetheless, the Japanese company is keen to gauge reaction to such radical ideas
Toyota i-Road Concept: As well as showcasing the forthcoming droptop GT86, Toyota sprung a surprise with this tiny commuter car, the i-Road. A 2+2, the electric three-wheeler has active suspension that lets it lean, motorbike style into the corners
Audi A3 g-tron: We've seen the e-trons, Audi's electric range. Now let's welcome the g-tron, natural gas-powered variants of the company's big sellers. The A3 g-tron promises vast range, low emissions (especially when combined with the company's proposed wind-power synthesised gas) and everyday practicality
BMW 3-Series Gran Turismo: Hatchbacks are back. BMW uses the 'Gran Turismo' name to add exotic spice to the return of this venerable body style. The 3-Series GT is larger and more spacious than its saloon sibling, hopefully finding a home among those who need a little more space
Mercedes-Benz A45 AMG: A high-performance variant of the company's new A-Class hatch, the A45 is a fiery little sportscar made all the more aggressive in this lairy 'Edition 1' trim
Volkswagen Cross-Up!: Our favourite city car gets the butch treatment with add-on bits and raised ride height. No four-wheel drive, sadly, but it still exhibits a Tonka Toy-style solidity
Peugeot 2008: Another crossover hits the market, this time in the burgeoning compact sector. Following on the heels of the elegant 208, the new 2008 has a similarly pleasing shape - no wayward styling or awkward details here. Deserves to do well
Renault Captur: The 2008 will go head to head with the new Captur, Renault's retort and an equally well-sorted design. Both companies are hoping these highly customisable urban SUVs will help turn round their fortunes in the European market
Nissan Resonance Concept: The European debut of this hefty SUV, the Resonance previews the upcoming second-generation Qashqai, the company's mega-seller
Honda Civic Tourer Concept: Yet another thinly veiled production car in concept form, the Civic Tourer Concept epitomises contemporary automotive design: expressive, flowing and a little bit busy
Honda NSX: The Japanese car-maker has been touting its upcoming NSX supercar around the world's autoshows for several years. Anticipation is growing - with no launch date in sight - but the basic building blocks look to be there: elegant, hi-tech and driver-focused
Mercedes-Benz SLS E-Cell: Another eagerly awaited supercar, the all-electric SLS will be made in strictly limited numbers, with handling and acceleration to rival its petrol-powered sibling
Chevrolet Corvette Stingray Convertible: The Corvette is an American icon, and with an all-new model waiting in the wings, Chevrolet chose Geneva to reveal the droptop version
Jonathan Bell has written for Wallpaper* magazine since 1999, covering everything from architecture and transport design to books, tech and graphic design. He is now the magazine's Transport and Technology Editor. Jonathan has written and edited 15 books, including Concept Car Design, 21st Century House, and The New Modern House. He is also the host of Wallpaper's first podcast.