Eye candy: Susan Bright excites the senses in a new food photography book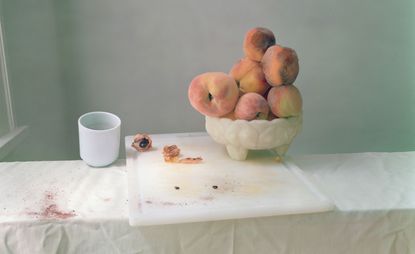 (Image credit: Courtesy of the artist and Yancey Richard Gallery, NYC)
'Photographs of food are rarely just about food,' writes Susan Bright, the photography curator and writer, whose latest book Feast for the Eyes is published by Aperture this month. She's not wrong.

Across 300 pages Bright takes us on a visual journey that presents photos of food in all kinds of contexts, from 19th-century still lifes, to vintage cookbooks, fashion editorials, conceptual art and industrial advertising. In the age of #foodporn (opens in new tab), you might feel surfeited on food pictures, but Bright might just change your mind.

Riffing on the analogy between the way we consume food and the way we consume photographs — with our eyes — Bright reviews the relationship between the camera and eating, 'one of the most base, visceral and profane of acts', ultimately reflecting on taste in a wider sense, and the shifting politics of food through the decades.
Peas on a plate, by Sandy Skoglund, 1978, from Feast for the Eyes.

Peter Menzel and Faith D'Alusio's 2007 Hungry Planet project, for example, documents how families eat around the world, with the implication that food stands for social class — as it does in Martin Parr's photographs of British people eating 'ordinary food', or Robert Heinecken's TV dinners, full of pathos and humour, reflecting on the state of American habits.

Food can, of course, be sexual — as in Jo Ann Callis' seductive Forbidden Pleasures pictures or Rotimi Fani-Kayodé's grape-draped genitals. But it can also be grotesque, especially in its excess, such as in Carolee Schneemann's Meat Joy, in which performers revel naked, covered in fish, chicken and pig offal. For others artists, such as duo Fischli & Weiss, playing with food comments on the proximity of the delectable and the disgusting — without taking itself too seriously.

This is certainly not all symmetrical plates of saliva-inducing fantasy — though there's plenty of aspirational food porn here too. There's a visual connection from the cookbook photographs of the postwar, easy-food era, (Aunt Jemima's Magical Recipes and Betty Crocker prompt nostalgia) to Sandy Skoglund's surreal meals, and later, Joseph Maida and Grant Cornett's highly stylised visions of the edible. From appetiser to dessert, Feast for the Eyes is not only a delightful account of delicious, but food for thought.
INFORMATION
Feast for the Eyes, $60, published by Aperture (opens in new tab)
Charlotte Jansen is a journalist and the author of two books on photography, Girl on Girl (2017) and Photography Now (2021). She is commissioning editor at Elephant magazine and has written on contemporary art and culture for The Guardian, the Financial Times, ELLE, the British Journal of Photography, Frieze and Artsy. Jansen is also presenter of Dior Talks podcast series, The Female Gaze.
You might also like
Chic peas: new art cookbook charts a history of hummus

On the Hummus Route traces a utopian track between cities, people, markets and dinner tables. It documents street food in nine Middle Eastern cities, including Cairo, Jerusalem, Gaza, Tel Aviv, Jaffa, and Damascus, and in doing so, offers a fascinating insight into the area's design, food, and culture

By Elly Parsons • Last updated
View More ▸