Cycle Mode International, Tokyo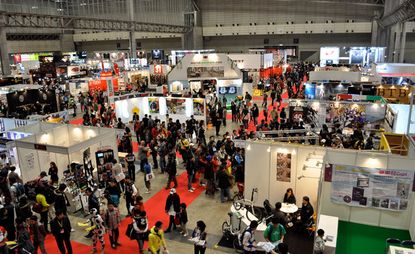 (Image credit: press)
In the world of cycling, trends fly past faster than Lance Armstrong on a Tour de France time trial stage, and this year Japan's biggest and best bike show, Cycle Mode International, held on the outskirts of Tokyo from Dec. 11-13, ring-ringed the changes.
While the stripped-down "fixed gear" racing machines beloved of hipsters and speedy commuters are still in vogue, the newest look harks back to the earliest days of cycling, when ladies and gentlemen took to the streets on Sundays dressed in their finest knickerbockers and tweed. The most recent bicycle designs reflect this trend, with major brands such as Giant and Specialized turning out spiffy street machines boasting baskets, balloon tyres and plenty of panache.
Over 50,000 people rolled up to see the latest bicycles, clothing and kit, with 178 brands on display and seminars on road safety and bike maintenance drawing appreciative crowds. But most popular of all was the test track, where the public could take the rig of their choice for a spin on a course that stretched for a kilometre.
Dr. Alex Moulton created the Moulton folding bicycle in 1962 and it's been a hit around the world ever since. This limited-edition model comes with a bottle holder, saddlebag, bar tape and headlight protectors in luxe leather by Yokohama-based leathergoods firm Maware.
British firm Brooks makes arguably the world's finest saddles. This white leather Team Pro CMWC Tokyo version marks the staging of the Cycle Messenger World Championships in Japan last September.
Superstar designer Marc Newson's creation for Danish bicycle firm Biomega is nearly a decade old. Known as the Biomega MN, it has been displayed at the Milan Salone and Paris's Centre Pompidou, and it's still available to buy for those who want to ride a piece of design history.
Panasonic's electrically assisted Titanium Light EB bicycle zips you from home to the office without raising a sweat, and it's light enough to carry upstairs when you get there.
The Yamaha "PAS er" is still only a prototype, but this shaft-drive, electric dream machine with disc brakes and integrated front a rear lights looks like being the perfect city commuter bike.
Tokyo-based tailor Stem has created the must-have garment for 2010 – the herringbone "Tweed Series" wool jacket with clever design touches such as a vented underarm to keep you cool and comfortable on the bike. Comes with matching short pants.
Of course, a tweed cycling outfit should never be teamed with casual shoes. Thankfully, Italian shoemaker Vittoria, based in Biella, Italy, has your footwear fashion needs covered with its "76" range of rubber-soled shoes. They can be used with cleats or without, and come in an impressive range of finishes.
Belgian Stijn Deferm is a bicycle designer, and after years of designing bicycles for other firms he has turned his attention to creating the kind of machines he had always dreamed of making. The "Gent" (named after the Belgian city famous for its velodrome) is a purebred track bike crafted from the finest steel.
Sportswear firm Puma began offering bicycles a few years ago, but this is its first foray into the world of fixed gear bicycles, but the candy-coloured frame with its oversized crossbar did have the pundits divided.
Osaka-based firm Anchor (part of the Bridgestone tyres group) makes the track-racing bikes for Japan's Olympic team. This top-of-the-line PHM9 model will be available to professionals and have-a-go amateurs alike in spring.
Milanese master craftsman Ugo de Rosa began making bicycle frames in 1952. More than 55 years later, he's still creating bikes, such as this "Scattofisso" track bike, that turn heads and win major races.
Kuwahara bicycles, based in Osaka, shot to worldwide fame when one of their BMX bikes was used in the film "E.T. the Extra-Terrestrial". The company turned 90 last year, and marked the occasion with this stylish single-speed mountain bike called "9 Decade".