New York's finest purveyor of pencils champions low-tech design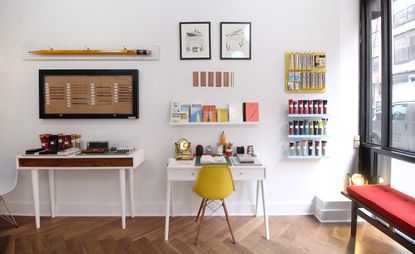 (Image credit: CW Pencil Enterprise)
Leave your laptop, smartphone and stylus at the door. Nestled on Orchard Street in New York's Lower East Side, a small store specialises in what some might call a dying medium: pencils. The shop, CW Pencil Enterprise, offers wood-encased graphite in every imaginable size and colour, designed and made in countries around the world.

After opening (somewhat ironically) online in 2014, founder Caroline Weaver opened a physical location in 2015 and has now moved to a new space, where the selection of pencils, accessories and stickers are displayed on shelves and within glass vitrines, appealing to both passerby and pencilophiles alike.

One standout is Caran D'Ache's Swiss-made neon pencils that are so bright they compete with highlighters. Other favourites include Eye Ball's Japanese-made pencils; one style is sized and coloured like cigarettes and another has red graphite in the shape of a heart.
For pencil purists, CWPE offers versions of the standard yellow No. 2 pencil, although many companies give it a modern twist. Viking and Koh-I-Noor's yellow pencils, for example, have sleek black dipped endcaps in place of erasers. There are many double-ended, grip and sparkle pencils for less than $2, but also luxury and vintage finds, such as the Graf von Faber-Castell Perfect Pencil, made from fluted California cedar wood and available for $385.

Crucial news: CWPE also offers a range of sharpeners and sharpener cases, notebooks, pencil caps and erasers, as well as exclusive items produced in collaboration with artisans and independent companies. There are posters that depict pristinely coiled pencil shavings; extenders for miniature or well-worn writing utensils; beautiful solid walnut pencil holders; and soft leather pencil cases. If you're overwhelmed by the selection, pick up a few pencils, take a seat at the testing desk and see what feels right—or just skip to the sticker store in the back.

Interiors are kept gloriously plain – white walls, wooden floor, comfortable seating – to match the simple pleasures of the store's offerings. Happy scribbling.
INFORMATION
For more information, visit the CW Pencil Enterprise website (opens in new tab)
ADDRESS
15 Orchard St, New York
NY 10002, USA
VIEW GOOGLE MAPS (opens in new tab)