Caran d'Ache celebrates its 100 anniversary with special limited edition sets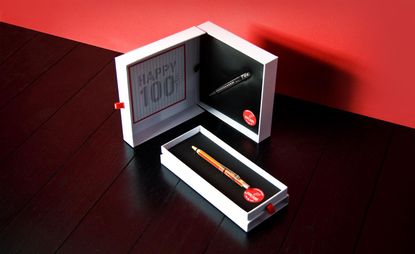 (Image credit: Caran d'Ache)
A set of coloured pencils - that transform into watercolour when dampened with a paintbrush, all wrapped up in a tin featuring a rugged snow-topped mountain - has been the most prized acquisition of any art-loving child for decades. Now its maker, Caran d'Ache (opens in new tab), the iconic Swiss manufacturer of artist's materials, has reached its 100th year and is celebrating with a highly covetable collection of limited edition pencil and pen sets.

The company began life in Geneva as the 'Fabrique genevoise de crayons' in 1915, and became Caran d'Ache in 1924 when the company was bought by Arnold Schweitzer. The name honours the French illustrator Emmanuel Poiré (opens in new tab) whose nom de plume was Caran d'Ache, itself a play on the Russian word for pencil, karandash. It moved on producing fine pencils, coloured and graphite, to manufacturing wax oil pastels, mechanical pencils and the first ballpoint pens. It has been in its home at Thonex, just outside Geneva since 1974, where all products are conceived and produced by highly skilled workers, and tested by a resident artist.

For the occasion of its 100th birthday, the company has revived a past logo, a pencil man character called Bonne Mine that took various different poses on the company's packaging in the 1930s. The anniversary collection includes a beautifully boxed Fixpencil mechanical pencil, a set of 4 Technograph pencils, a Prismalo Box of coloured pencils, an 849 ballpoint and an Ecridor ballpoint pen.