Elegant mechanical pencils get straight to the point
Mechanical pencils are forever sharp, for drawing, sketching and writing that's always on point – here are some of the most elegant desk mates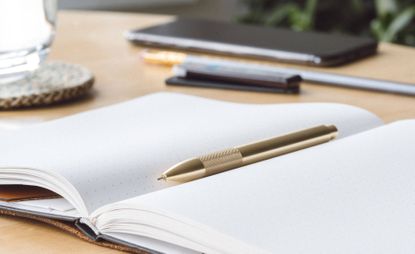 (Image credit: press)
The whole point of a mechanical pencil is to have perfect sharpness forever. Yet without precise engineering and build quality, the standard slender leads are doomed to constant breakages. This round-up of high-end mechanical pencils has an emphasis on long-lasting materials, beautiful craftsmanship, and refined design, allowing you to click to sketch for many years to come.
Wingback Designer's Mechanical Pencil
The Wingback Designer's mechanical pencil pairs a Japanese mechanism with a British-engineered brass case, creating a pleasingly weighted writing device. The integral reservoir has been designed to hold up to ten times as much lead as a conventional mechanical pencil, and attention to detail is second to none. In addition to brass, the Wingback is available in regular steel and black steel, with matching solid metal pencil holders that also serve as a paperweight.
Wingback in brass, £95, wingback.co.uk
Uni-ball Kuru Toga
The Kuru Toga's claim to fame is its integral gearing system that gives the lead a subtle twist each time you press down on the paper. This keeps the tip of the writing surface smooth and strong. The plastic pencil is available in a number of different colours, with a transparent case revealing the mechanism within.
Uni-ball Kuru Toga, from £9, uniball.co.uk
Contour Mechanical Pencil by 22Studio
Mechanical pencils don't only come in metal and plastic; 22Studio's Contour mechanical pencil bucks the trend towards metal barrels by using a shaped piece of high-density concrete. Designed to weather and age over time, as well as become better shaped to your writing style, the concrete Contour contains a 0.5mm pencil mechanism.
Contour mechanical pencil, $72, 22designstudio.net
The Pencil by Modern Fuel
Available in bronze, copper, steel, and titanium, The Pencil is produced by Modern Fuel, based in Austin, Texas, a company set up by British designer and engineer Andrew Sanderson. Using his aviation background as inspiration, The Pencil is thoroughly engineered from the best quality metals (with no plastic at all) and made in the USA.
The Pencil, $150, modernfuel.com (opens in new tab)
Traveler's Company Pencil
Japanese stationery expert Traveler's Company specialises in making accessories and writing implements out of solid brass. Designed to be easily pocketed, the brass-barrelled device serves as an attachment for a short pencil, which can removed and stored inside for protection when not in use. A clip and eraser complete the set.
Brass pencil, €27.90, available from kohezi.com; travelers-company.com
Hexagonal Wooden Mechanical Pencil by Muji
Mimicking the form and shape of a classic lead pencil, this mechanical pencil epitomizes the Muji ethos of simple, pure, functional products. Designed to slot easily into notebooks, with a clip and eraser tip, the 0.5mm Hexagonal Wooden Pencil is timeless low-cost design.
Hexagonal Wooden Pencil, £3.50, muji.eu
HMM Project Pencil
HMM Project's Pencil has a chunky 12-sided metal barrel, shaped from aluminium and perfectly balanced in the hand. Using 0.7mm leads for a slightly thicker line, the pencil comes in black or gold.
HMM Pencil, €35, hmmproject.com
Staedtler Clutch Pencil
The archetypal architects's drawing tool, Staedtler's clutch pencil was the ubiquitous drafting device in the days before computerization. Still available, this classic pencil takes 2mm leads that can be sharpened to a fine point using the tool built into the cap, or by using the timeless Mars 502 Lead pointer tub.
Staedtler Mars technico 780 C, staedtler.com
Onigiri Mechanical Pencil by Before Breakfast
British stationery brand Before Breakfast offers its Onigiri mechanical pencil in both 0.5mm and 0.7mm versions, with finishes for the aluminium body including pine green and space blue. The fluted barrel design will stop it rolling away and it pairs beautifully with the company's notebooks and desk accessories.
Onigiri Mechanical Pencil, £50, beforebreakfast.london
Kaweco Sketch Up Clutch Pencil
Created for sketching and fluid line work, Kaweco's brass-barrelled Sketch Up clutch pencils have been designed to hold soft 5B leads in 5.6mm thickness. The German company sells leads in a variety of colours for different applications, and the octagonal barrel can be finished in rich brass, black or satin chrome.
Kaweco Sketch Up clutch pencil, €30.50, kaweco-pen.com
YStudio Sketching Pencil
Another beautifully machined piece of brass offering the promise of patination with age, YStudio's Sketching Pencil offers a 2mm lead for a thicker, richer line. You can also get the hexagonal barrel engraved. The company's conventional mechanical pencils can be paired it with an elegant matching brass pencil box for storage of slender 0.3, 0.5 and 0.7mm leads.
YStudio Sketching Pencil, $119, ystudiostyle.com
Tactile Turn Mechanical Pencil
Pencil, $99, tactileturn.com
Available in titanium, copper, bronze, and zirconium, Tactile Turn's new Pencil is a solid object with industrial detailing and a lifetime guarantee. The Texas-made pencils have the company's signature bolt mechanism for advancing and retracting the lead. The bolt can be had in a custom 'Titanium Damascus' finish, along with the clip, and there's also the opportunity to engrave your name on the clip.
Rotring 800+ Mechanical Pencil
The 800+ sits at the top of Rotring's expansive range of fine mechanical pencils. The '+' signals the addition of a useful stylus tip, perfect for scribbling of tablets and phones, while the pencil mechanism itself is a masterpiece of finely machined parts and tried and tested durability. The high-tech way to use lead.
Rotring 800+, rotring.com
Jonathan Bell has written for Wallpaper* magazine since 1999, covering everything from architecture and transport design to books, tech and graphic design. He is now the magazine's Transport and Technology Editor. Jonathan has written and edited 15 books, including Concept Car Design, 21st Century House, and The New Modern House. He is also the host of Wallpaper's first podcast.