Twin peaks: Vollebak's high-tech sportswear aids recovery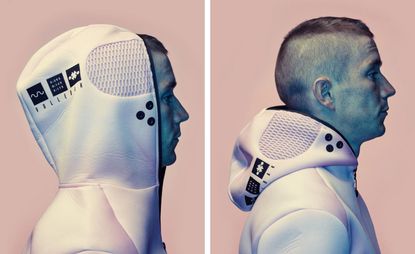 (Image credit: Andy Pò)
Hi-tech sportswear generally makes a number of simple promises, usually concentrating on the during of what you do rather than the before or after. New London-based adventure clothing brand Vollebak takes a more experimental, tangential approach to performance enhancement. Founded by twins Steve and Nick Tidball, former creative directors at TBWA who run ultramarathons in the Namib Desert in their spare time, Vollebak launched late last year after years of tests with two jackets, 'Baker Miller Pink' and 'Condition Black'.
'The Special forces, space exploration, neuroscience, conceptual art, philosophy and material technology were all influences on product development,' says Steve Tidball. The Condition Black jacket is designed to take almost any eventuality and keep you alive. For example, an outer surface of super-thin ceramic panels means it can survive a skid up to 120kph on any surface. The Baker Miller Pink Hoodie, with its mesh visor and asymmetrical sling pockets, is designed to ease pre-event tension and promote post-event recovery, or 'enhance your parasympathetic nervous system,' says Tidball.
Both come with downloadable soundtracks: the hoodie with a relaxing half hour of pink noise, while the jacket soundtrack is more clamour and cacophony, designed to increase your capacity to deal with pure terror.
INFORMATION
Baker Miller Pink, £220; Condition Black, £750. For more information, visit Vollebak's website (opens in new tab)
Photography: Andy Pò