Technogym's new Personal Line is an exercise in neat design
Designed by Antonio Citterio, the Technogym Personal Line combines state-of-the-art fitness technology for the home with elevated craftmanship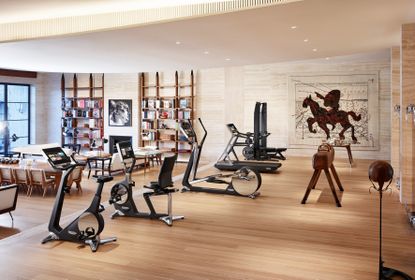 (Image credit: press)
In partnership with Technogym
The days of ugly, clunky and cumbersome, single-exertion home gym equipment are over. The Personal Line is Technogym's innovative blend of sport and design, combining the style of world renowned industrial designer Antonio Citterio with Technogym's experience in the world of fitness, sports, and as an official supplier of the Olympic Games.
While featuring state-of-the-art biomechanics, digital technologies, refined materials and the highest quality, Made In Italy craftsmanship, Technogym's Personal Line products are also conceived as furniture design pieces to be placed in the most beautiful spaces of the home.
The collection includes the brand's most iconic fitness equipment – Treadmill, Bike, Recline, Elliptical, Kinesis and Power Station – and the dual possibility of creating an entire home gym or simply integrating your selected model within the living room, bedroom, or bathroom.
Combining technology, refined design and entertainment
Personal Line products are also equipped with the newly launched Technogym Live console that allows users to choose a personalised training experience from an extensive on-demand training content library featuring the most engaging one-to-one trainer-led sessions, athletic training routines, basic workouts or virtual routes set in nature or in favourite cities.
The Technogym Live console also offers endless entertainment options, including TV channels, social media, streaming channels and a wide range of apps, from games to breaking news.
Citterio specified the Bench Personal's soft-touch upholstery, which features biometrically authenticating Bodyprint technology, ensuring maximum comfort during the workout. An easily adjustable mechanism eases the targeting of specific muscles and muscle groups.
Empowering performance: the Technogym Bench
The Technogym Bench is an ideal training partner. Beautifully designed for maximum versatility and faster results in contemporary, domestic environments, and featuring more than 200 exercise options, Technogym Bench is a compact, minimum-footprint, multifunctional workout station that allows users to combine weights, elastic bands, dumbbells, weighted knuckles, and a training mat. Ingeniously conceived, the station offers infinite training opportunities and multiple configurations, empowering performance and ensuring highly effective total body workouts.
Choose the Technogym Bench's hexagon dumbbells for increased muscle tone, isolating single muscle groups or combining muscles for full-body blasts.
The unit's elastic bands, in three different resistance levels, facilitate mobility through stretching and provide incremental resistance for strength exercises, while weighted knuckles escalate core improvement with engaging power-up exercises.
Technogym Bench's accompanying video workout programmes can be adapted to personal goals, for strength, resistance and core, for example, while a new Technogym App offers personalised workouts for use with the brand's equipment – or for bodyweight exercises and workouts with the tools you have available – as well as on-demand video from top trainers.
An app to guide your workouts
For users that already have Technogym equipment available, at home or at the gym, the app offers guidance on how to make the best use of it, with the possibility to enjoy the video training experience on the console. If you do not have equipment available, it can propose alternative workouts directly on your mobile or on a TV screen.
Every day the app suggests the most suitable bespoke workouts, combining scientific research, artificial intelligence, and engaging and challenging video content. It offers a wide variety of fitness, sports and health programmes developed by specialists in different disciplines.
A new Technogym ID service allows connections to a personal profile across all touchpoints (smartphone app, equipment consoles and website), enabling users to access workouts, services and results anywhere in the world – at home, at the gym, when travelling, at work or outdoors.
Technogym and fitness
Technogym is a world leading brand in products and digital technologies for fitness, sport and health for wellness. It offers a complete ecosystem of connected smart equipment, digital services, on-demand training experiences and apps that allow users to access a personalised training experience anytime and anywhere.
More than 50 million people train with Technogym in 80,000 wellness centres and 500,000 private homes worldwide. The brand has been an official supplier to the last eight Olympic Games.