Cyril & the Chocolate Factory: childhood delights from French chef Cyril Lignac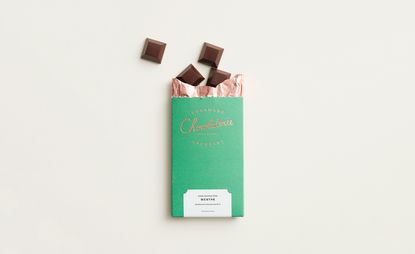 (Image credit: press)
'A concept appealing to everyone', is what French chef Cyril Lignac had in mind when he imagined La Chocolaterie, Paris's hottest new concept store. More than a store, it is a democratic place to grab a slab and go, to stop for a hot chocolate, to sample a chocolate patisserie and shop for a last-minute gift. 'I wanted to create a luxury, artisanal offer – one that breathes quality. Every slab is hand wrapped in a fine copper foil, yet accessible to all [a slab sells for around €5]', Lignac explains.

Like macaroons, Lignac's chocolate slabs, bonbons and bars are fun: reminiscent of childhood delights, junk food or movie premieres, they revisit popular favourites and are designed to last. Into Mars bars? The handmade fresh-butter sablé is topped with soft caramel and dipped into great quality chocolate. A Bounty fan? A handcrafted coconut-based filling enhances the junk food experience. For Chocoletti lovers, Lignac imagined slabs that contain individual chocolate cubes with decadent caramel-marshmallow, or grand cru dark chocolate with mint filling.

At the opposite of a market in which chocolatiers sell single origin slabs at a significant price, Lignac places chocolate envy at the heart of one's daily life. 'Cyril's brief was: think about the quality of the product first. La Chocolaterie is about a new mind-set where slabs are affordable, regressive, fun,' explains Antoine Ricardou, principal of graphic design studio be-poles. 'We wanted people to rip the packaging open. Even in the design of the slab, we made it look like an emoticon,' he adds.

A nod to Lignac's copper cooking pans, the inner foil is metallic and particularly fine, hinting at the delicacy of the recipe and homemade chocolate it holds. Simultaneously, the choice of mat cardboard and a cheap material for the packaging was an obvious design choice for Ricardou. He chose washed-out colours and timeless typography to appeal to everyone's inner child. 'La Chocolaterie couldn't have been created by any other chef. It's all about simplicity and quality', he concludes.
INFORMATION
For more information, visit Cyril Lignac's website (opens in new tab)
ADDRESS
La Chocolaterie
25 rue Chanzy
75 011 Paris
VIEW GOOGLE MAPS (opens in new tab)