Charabanc automobile fragrance accessories are inspired by the golden age of travel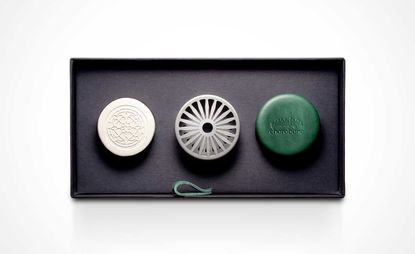 (Image credit: charabanc)
For many, the words 'car fragrance' are more likely to conjure up thoughts of the ubiquitous pine-infused cardboard trees that swing from rear view mirrors rather than luxury scents. Two women hoping to change this assumption are Carrie Hindmarsh and Barbara Behan, who have launched Charabanc – a scented automobile accessory brand inspired by the golden age of travel.

The duo, who met while working together at London Creative Agency Network M&C Saatchi – where Behan was marketing strategist and Hindmarsh was CEO – have developed a series of five fragrance-soaked ceramic pastilles encased in handcrafted stenciled-steel and vegetable tanned leather pomander shells.

The scented pastilles are wet pressed in a Valencian ceramics factory that dates back to 1956; the steel shells are spun in Portsmouth, England, by a specialist team who also make parts for the aviation industry; while the leather lids and lanyards are made in east London from Spanish hides sourced by one of Britain's oldest suppliers.
As two female entrepreneurs approaching a male-dominated industry from a design perspective, Hindmarsh and Behan bring a unique viewpoint to the market. 'We are conscious that the world of car engineering has historically been a very male domain, so we were keen to ring the changes and to develop a product that would have equal appeal to male and female drivers alike,' explains Hindmarsh, who worked with Adrian Weidmann and Map – Barber Osgerby's strategy-based industrial design consultancy – on the product design.

'We wanted the Charabanc pomander to be properly engineered for the car in terms of its form and function and in terms of aesthetic. We took inspiration from the colours, materials and finishes of classic motorcar interiors. Sustainability was also a key part of the brief, it was essential that we develop a product that would last and wear beautifully with time.'
Fittingly, the fragrances are each inspired by legendary road trips such as the drive across England's Pennine Fells or a trip along the plain of Castellucio in Umbria. The golden road to Samarqand in Uzbekistan inspired another, as did a journey to Tai Mo Shan, Hong Kong's highest peak, and the drive through Monument Valley in Arizona.

To encapsulate the scent of these breathtaking locations, Behan and Hindmarsh enlisted the services of a renowned perfume house, who have also added a note of leather and wood to each fragrance to evoke the aroma of a vintage car – indeed, the brand's name 'Charabanc' refers to the first motorised vehicles that took the aristocracy out on the shoot and on trips to the country and seaside.

'Our ambition was for Charabanc to be engineered for today yet feel as if it could have existed in the cars of motoring's interwar heyday.'
INFORMATION
The five Charabanc pomanders are available at Harrods and the Charabanc website (opens in new tab)