Brian Eno and Peter Chilvers create 'ambient technology' in Amsterdam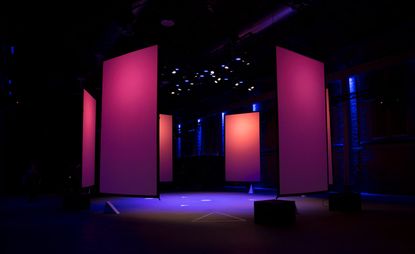 (Image credit: press)
Brian Eno and longtime collaborator Peter Chilvers have paired up again on an immersive art installation – 'Bloom: Open Space' in Amsterdam.

Described as 'mixed reality', the installation takes its name, and direction, from an app developed by the duo ten years ago. 'Bloom' – part instrument, part composition, part artwork – allows anyone to create elaborate patterns and melodies by tapping the screen, creating an infinite selection of compositions and accompanying visualisations. 'It's an instrument for non-musicians', says Chilvers.

Now, said 'non-musicians' have the opportunity to step inside a life-sized iteration of the application. Armed with the gesture controls from Microsoft HoloLens' virtual-reality headsets, participants will create colourful 'blooms' across the walls of the space, which Chilvers affectionately calls 'Screenhenge'.
Thanks to a newly created, high level networking technology and HoloLens' spatial tracking features, the blooms created by each user are seen and heard by everyone in the installation. 'Where the app was a solo experience, this is going to be a shared one,' Chivers adds. 'My analogue brain initially found it an odd thing to experience. When I was prototyping the work in New York, a colleague in London was hearing and seeing my blooms as they appeared. It was truly universal music making.'

Though the technology behind it is mindbending in its future-seeking nature, the end result is surprisingly relaxing. It's a an odd thought: plugging in, to switch off. Eno calls his live installations – like his 'Light Works' exhibition in 2017 – 'quiet clubs'. On entering, people 'immediately start to slow down'. First they wander, then they lean against the wall, then they slump onto the floor and find somewhere to sit. Chilvers predicts the same effect will consume visitors to 'Bloom: Open Space', where its haute-technology construction will, rather than jarring the senses, 'hang like a nice scent in the air'.

It's an off-beat take on tech-art, which is so often about speeding, noisily, head first into the future. 'The world is hyper-stimulated, we're trying to undo some of that,' says Chilvers. 'The space will be as ignorable as it is interesting. It's a form of "ambient experience" or perhaps "ambient technology".'
INFORMATION
For more information, visit the 'Bloom: Open Space' website (opens in new tab)
ADDRESS
The Transformatorhuis (Trafo House)
Westergasfabriek Klönneplein 2
1014 DD Amsterdam
Elly Parsons is the Digital Editor of Wallpaper*, where she oversees Wallpaper.com and its social platforms. She has been with the brand since 2015 in various roles, spending time as digital writer – specialising in art, technology and contemporary culture – and as deputy digital editor. She was shortlisted for a PPA Award in 2017, has written extensively for many publications, and has contributed to three books. She is a guest lecturer in digital journalism at Goldsmiths University, London, where she also holds a masters degree in creative writing. Now, her main areas of expertise include content strategy, audience engagement, and social media.