Top 12 deliciously designed Easter eggs for 2018
Hop into Easter with the best-looking and tasting chocolate treats of 2018. From mini-marvels to secret surprises, feast your eyes (and your appetite).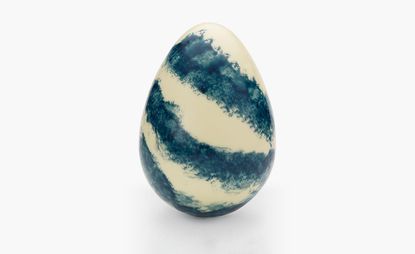 (Image credit: press)
Cambridge-based chocolatier Harry Specters (opens in new tab) opened its doors in 2012 with an aim of providing employment, training, workshops and free mentoring for youths with autism, inspiring confidence and hope. This Easter, it celebrates the outstanding work of its team through the Egg-ism egg, raising awareness and promoting inclusion and acceptance of the 700,000 people in the UK with autism. Carefully hand-painted with cocoa butter using natural food colour onto a creamy white chocolate, the egg comes hand-wrapped with a ribbon and swing tag. 60% of the company's profits are reserved for its ever-developing social objectives.
Inspired by the exotic Hoopoe bird, London's Artisan du Chocolat (opens in new tab) has produced a springtime chest of chocolate goodies. A hand-crafted egg (available in milk and dark chocolate) sits atop the geometrically patterned chest, with a drawer of assorted fresh coutures, mini eggs and a shimmering pearl making this treasure worth digging for.
2018 marks the 150th anniversary of California-based chocolate company Guittard. To celebrate, British chocolatier Paul A Young (opens in new tab) has developed the especially attractive Machu Picchu Signature Egg, made from Guittard 65% Peruvian Dark Chocolate and hand-painted in a colourful metallic palate. Only 10 of these eggs are available, and each is accompanied by nine truffles made from the rare anniversary blend.
This Easter at Bulgari Hotel London, the traditional chocolate egg has been reimagined into a delicate work of art – an edible homage to the opulent Bulgari brand. Handcrafted in house, the 70 per cent dark chocolate shell sits on a base of blended cereals and melted chocolate, secretly enclosing a studded 'mendiant' of dried fruits, a delicious blend of apricot, cranberries and raisins.
David Bowie's long-reigning glam influence has been channelled into luxury chocolate form, courtesy of Brandon Olsen of CXBO (opens in new tab)'s 'Ziggy Stardust Disco Egg'. A French chocolate shell, lined with unique flavour combinations including coffee, apricot and ancho chilli, houses dark chocolate truffles and aerated milk and white chocolate chunks.
Harrods has taken its Easter-cues from a distinctly mid-century palate this year, with an understated blue and brown 2D 'flat' egg, that wouldn't look out of place on an Alvar Aalto kitchen table. Whipped up by Harrods' head pastry chef Alistair Birt (of World Chocolate Master fame), a chocolate sponge base is sprinkled with muscavado salted caramel, and topped with extravagent dark chocolate mousse.
Pierre Herme (opens in new tab)'s 2018 offering is the particularly glitzy Oeuf Fragments egg. A polished surface, made from Pure Origin dark chocolate from the Xibun plantation in Belize (available in cocoa, signature milk chocolate and blond chocolate) covers a shining golden egg – a truly 'looks too good to eat' treat.
Pierre Marcolini (opens in new tab)'s Easter accolades have always been particularly playful, and this year's Mystery Eggs keep the fun going. Inside the maison dark and white chocolate eggs, six different flavours of mini eggs can be found – pistachio praline, extreme fondant and milk chocolate nougat praline just three of the six findable flavours.
Claridge (opens in new tab)'s returns each year with its Easter classic, which embodies the timeless glamour and art deco heritage of its hotel lobby. Pastry chef Yago Doamo used dark, white and milk Valrhona chocolate for the eggs, each filled with hand-made chocolate praline quail eggs and wrapped by hand in eau de nil coloured boxes.
One of Godiva (opens in new tab)'s 2018 Easter offerings is the POP collection, a range of individually wrapped mini-eggs available in a variety of flavours. Particular favourites are the Noir Vanille (pictured), a dark chocolate shell with sweet vanilla flavoured ganache, and the Lait Praliné, a milk chocolate shell filled with smooth hazelnut praline.
Selfridges (opens in new tab) called upon the wise counsel of The Chocolate Society in the design of its incredibly limited-edition 2018 egg. Entirely hand crafted and painted in a colourful confetti-splatter design in Somerset, multi-award-winning chocolatier Al Garnsworthy imbued a Wonka-worthy level of artistry into the egg, available exclusively at Selfridges.
This year, Hotel Café Royal (opens in new tab) called upon its lauded pastry chef Sarah Barber to design its egg. Hand crafted and glazed with the finest Valrhona chocolate (renowned for its aromatic profiles and rare cocoa bean flavours), the egg is sprayed in rogue cocoa butter, and houses white chocolates and raspberry truffles.