Cinema snacks go gourmet (and gory)
Chef and photographer DeadHungry serves artistically-inspired vegan cinema snacks at Selfridges' London cinema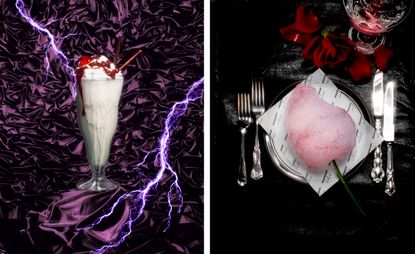 (Image credit: DeadHungry)
After collaborating with the likes of Bottega Veneta and Burberry, Alex Pagenelli (who goes by the witty alias DeadHungry) will be taking over Selfridges Cinema for a one-off cinematic dining experience.

With an impressive background as a chef, photography has also long been a passion of Pagenelli's. Now he merges both, creating sensory feasts that look as exciting as they taste. Taking visual inspiration from vintage film posters, camp 1970s cinema, horror movies, sci-fi films and westerns.
The chef-meets-artist tells us, 'when designing dishes, I love taking a well-known menu concept – such as classic cinema food – and from there experimenting with new flavour combinations and unexpected ingredients.'

'The first dish is a savoury cotton candy – I love the texture and it's fun to eat, but by switching up the flavours, this simple sweet treat becomes a refined starter. From the plant-based hotdog, to the sweet truffle popcorn and natural fruit candies, each course explores foods that are a quintessential part of the cinema-going experience, in new and interesting ways.'
For a cinema experience far removed from sticky carpets and creaking seats, Selfridges state-of-the-art sound and vision technologies ensure a world-class viewing experience. To compliment DeadHungry's plant-based four-course tasting experience, a short film will follow of iconic food scenes in cinema.

The experience doesn't end there, however, as guests will also be able to take away a bag of DeadHungry's natural sour candies, created by preserving citrus in sugar for several days until you're left with delicious sour sweets, reminiscent of childhood favorites.
INFORMATION
selfridges.com
deadhungry.co (opens in new tab)
Sophie is currently Photography Editor at Wallpaper*. Sophie joined the team following the completion of her photography degree in 2018, and works with Photography Director Holly Hay, where she shoots, commissions, produces, and writes on photography. Alongside this, she continues her art practice as a photographer, for which she was recently nominated for the Foam Paul Huf Award. And in recognition of her work to date, Sophie was nominated by the British Journal of Photography for the Futures photography platform in 2021.
With contributions from