Tech-first Audi A8 leads the way to autonomous driving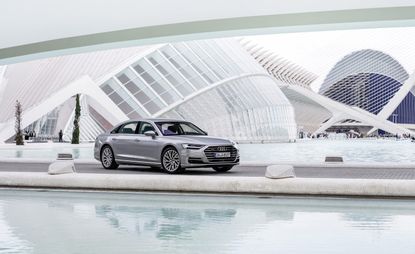 (Image credit: press)
We've always had a soft spot for the Audi A8, the German company's flagship saloon car. Yet in an age of mega-SUVs and Crossovers, the big saloon has become something of an anachronism, a throwback to an age when might and pomp signified status. Such cars were made to be driven in, not to drive, with the focus on extra legroom, reclining seats and an intentional disconnection from the dirty work of getting from A to B.

All that has changed, and no modern car maker would dare release a premium product that didn't offer the same level of exquisite attention detail to those in the front seat as well as the back. While the basic triumvirate of upper-level executive saloons – Audi A8, Mercedes S-Class and BMW 7-Series – has stayed essentially the same for three decades, there are now still a host of challengers, from Range Rover to Lexus, Maserati to Bentley, none of which would concede their cars were anything less than brilliant to drive.
So with style, comfort and performance considered a given, the next battle is taking place over technology. Tradition demands that new technology appears first in high-end models before filtering down the range. As technology becomes more and more integral to the image of the car, and interior experience, sitting in a top of the range machine offers up dashboards of immense complexity and sophistication, with the nuances of each company's human-machine interface fast becoming a matter of personal taste that you lock into for life, a bit like your preferred desktop or smartphone operating system.

Audi has been working hard on this interface for decades and the A8 represents the pinnacle of its current thinking. The MMI (Multi-Media Interface) debuted way back in 2002 and has evolved into a massively sophisticated way of controlling every facet of a car's systems, from air-conditioning down to massage seats, smartphone integration, suspension seatings, even the hue of the LED cabin lighting.
With so much experience, it's not surprising that Audi does these things better than most, but the A8 also hints at even more massive complexities to come. Our world is all data-driven now, so it stands to reason that cars need to soak up as much information on their surroundings as possible. You can see where this is heading – a world of self-driving, super smart cars. But you can also see where the gaps might lie. No solution is seamless: the A8 uses Google Maps, yet it still managed to incorporate a one-way street as part of a navigation route, then assign no-entry status where it didn't exist. In an age of increasingly smart home assistants, it also feels lumbered with toddler-grade speech recognition.

While the A8's sensor package is all present and correct, this car is running way ahead of existing legislation. Eventually, perhaps later in 2018, a switch will be flicked and a whole bunch of Level 3 autonomy features will come online. Level 3 is a major benchmark, meaning 'fully autonomous under certain circumstances,' i.e. highway driving or nose-to-tail traffic. Right now, even the best in-car systems are running at Level 2, meaning they'll happily track the road ahead, steer through sweeping corners and match speed to the surrounding traffic. Crucially, while this might feel like the work of magic, you're also not supposed to switch off and do something else; all the high-profile 'autonomous' accidents have been Level 2 cars treated as if they were at Level 3.
Audi is hoping to be the first manufacturer to attain self-driving status in the wild, thanks to its array of battery of cameras, radars and laser sensors. In fact, in very specific circumstances, namely slow-moving traffic below a certain speed on a dual carriageway separated by solid barriers, the A8 will take over and help you crawl your way to and from work. Ironically, this is not only the most miserable and uninspirational driving scenario you can possibly be in, but also the precise situation where most execs have a driver up front so they can make full use of the A8's spectacular rear compartment.

The Audi A8 is undeniably a good-looking car, and the refinement and interior are unmatched, especially in this long-wheelbase version. But in a sense, the A8 isn't quite finished. Will it ever be? We're entering an era where car companies are realising that hardware and software move at different paces. Just like with smartphones, perhaps every new car owner will end up waiting expectantly for version 2.0.
INFORMATION
Audi A8L TDI quattro, from £72,210, as tested £108,780. For more information, visit the Audi website (opens in new tab)
Jonathan Bell has written for Wallpaper* magazine since 1999, covering everything from architecture and transport design to books, tech and graphic design. He is now the magazine's Transport and Technology Editor. Jonathan has written and edited 15 books, including Concept Car Design, 21st Century House, and The New Modern House. He is also the host of Wallpaper's first podcast.