Does your self-driving chariot await? Here's what the future of autonomous cars looks like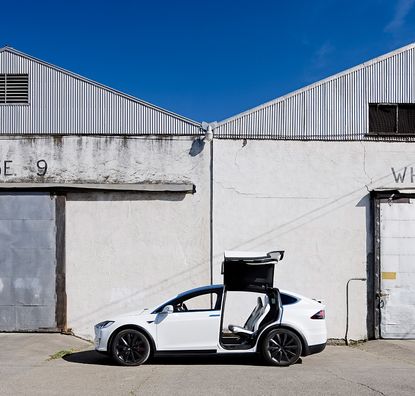 (Image credit: Joe Fletcher)
Certainly, it's a stretch to look at Stephenson's Rocket and see a Shinkansen, or to compare the Wright Flyer to a Dreamliner. So will the autonomous cars of tomorrow have a similarly distant relationship to the cars we use today? Even though a self-driving future seems all but assured, total automation still seems a few years away. Right now, the legislative thicket is growing as fast as it can be hacked back, while the many tentacles of technological standards are interwoven and tangled and have already descended into rancorous accusations of intellectual property theft. And most crucially, the interface between human and machine is still, unsurprisingly, fallible. Will we ever have true self-driving cars?

This thorny question is no longer just an auto industry issue, but a tech industry one. The unseemly scramble for auto-tech partnerships has seen the brain drain swill this way and that as each side competes for the brightest minds in autonomy. At the turn of the decade, the big tech players – Apple, Google, Intel, Microsoft, Nvidia – found themselves with only a small foothold in the auto market courtesy of infotainment systems and emerging mobile-to-car sync systems. But self-driving cars promise a new profit engine, given that tomorrow's cars will need desktop-sized processors, a full suite of sensors and new generation AI-based software. So the race is on, as much between Silicon Valley's biggest names as it is between the century-old motor manufacturers.
Currently, automotive intelligence is graded in five levels (excluding Level 0, entirely human controlled). Level 1 equates to long-standing technologies like cruise control, whereas by Level 2 a degree of auto-awareness of lanes, road signs and the movement of other vehicles comes into play. Right now, the market is awaiting the deployment of Level 3, wherein a semblance of AI allows the car to make 'decisions' based on changing conditions. Level 4 introduces almost total autonomy, as long as you're in a controlled area and Level 5 is the fabled robot car of tomorrow, capable of running chores and being summoned, uncomplaining, to rain-streaked city centres in the small hours.

Though still stuck at Level 2, available technology still provides a broad range of experiences, with each manufacturer offering something different. We are all tiptoeing around the technology, with machine-driven missteps victim to viral videos and online rumour-mongering. But just as cruise control crept into ubiquity, today's self-driving systems are slowly insinuating themselves into our everyday lives.

Tesla's Autopilot is still getting all the plaudits and the (positive) YouTube hits, although there is steady progress from the more well-established names. Mercedes' new E-Class represents the gold standard in evolutionary autonomy. The car's Drive Pilot includes the latest versions of radar-driven cruise control and braking systems, technologies that have been around since 2006. These intelligent aids stop just short of ceding complete control to the machines during highway driving, but handle braking, accelerating, lane-keeping and sticking to speed limits, while the car can also be parked remotely using an app. Volvo's new XC60 is in many respects a deeply conservative design intended to appeal to deeply conservative people, but it's also the very first car capable of literally steering you out of the way of impending danger.
The upgraded Mercedes S-Class promises next-generation technology, as does the forthcoming Audi A8. 'It's a step-by-step evolutionary process,' say Miklos Kiss, Audi's head of Pre-Development Autonomous Driving. 'The next A8's systems can take control over the car during parking or in stop-and-go traffic situations on freeways at speeds up to 60km/h.' Audi believes selfdriving works best when it's handling tedious tasks like stop-start traffic (dealt with by the company's existing Traffic Jam Assist). Kiss even suggests that, on certain 'predefined routes', the A8 will be able to 'completely take over'. Likewise, the most recent BMW concepts have taken autonomous driving to heart, with the company investing heavily in the interface between car, driver and the outside world as a way of replacing the 'lost' emotional connection generated by actually driving yourself. The new generation 5-Series comes closest, the firm having demonstrated a prototype 'CoPilot'-powered car at the 2017 Las Vegas CES (Consumer Electronics Show).

All Teslas have had full self-driving capable hardware built in since last October; the software just has to catch up. At the time of writing, the company's loyal band of owners was eagerly awaiting the arrival of Autopilot version 2. Tesla says AP1 'is designed… to reduce the driver's workload' and the next generation should up the ante significantly. Co-founder Elon Musk has been characteristically evangelical about the panacea of autonomous driving, telling an audience earlier in the year that 'getting in a car will be like getting in an elevator; just tell it where you want to go and it takes you there with extreme levels of safety, and that will be normal'

Tesla, Audi, BMW et al can take care of the engineering, but there's still more to be done by lawyers. 'The political framework needs to change most,' Kiss says. 'In Europe, an automated steering wheel is not allowed above a speed of 10km/h – the driver is obliged to have full control over the vehicle at all times.'

Manufacturers are lobbying governments. For these technologies to take root, there must be fundamental change. Tech has always nibbled away at and nudged the way we interact with the world and driving will be no different. There are paradoxes to untangle; just as distracted driving is becoming a major issue, we're asking machines to give us licence to drift off into a digital reverie, quite unconnected to our surroundings. Another is that it is far, far easier to design a fleet of autonomous cars to drive safely on a multi-lane highway than to venture into the heart of a major city. Urban driving is a process of constant negotiation and communication, myriad little tics, gestures, grimaces and muttered curses. Today's AI fails miserably at this non-verbal stew of cues, hints and expectations.

The psychology of self-driving may be more important than the actual technology. Personal transportation has evolved over hundreds of years. We live in a retro-fitted future, where installing another app and hooking another gadget into our lives is the day-to-day reality. Uber fits seamlessly into this narrative, reducing social interaction to an animated map, its drivers little more than video game characters scurrying around the urban maze, waiting for a summons. It works great for the user, but you can't help but feel that the code is giving someone, somewhere a raw deal in return.

Is the much-vaunted Silicon Valley mantra of 'move fast and break things' entirely inappropriate when it comes to such a social, cultural and technologically ingrained system as the road network? The autonomous offerings of Tesla, Audi, Mercedes, BMW and others are still about layering sophisticated tech over the everyday reality, but no one is expecting to hand over total control to their car. It may be true that self-driving cabs will free the passenger and transform personal transportation, but even if one disregardsthe thoughts of Uber's hundreds of thousands of flesh-and-blood drivers (and the swathes of the working population employed to drive people and goods around), such techno-utopianism is accompanied by very little curiosity as to the long-term consequences. The unanswered questions about autonomous cars keep stacking up.
So far, official interest has taken the shape of localised pockets of innovation for valued resident tech firms. Engineering giant Arup set up the UK Autodrive consortium in response to a British government brief to bolster the country's autonomous, lowcarbon economy. Arup is collaborating with Milton Keynes – the Buckinghamshire new town with a self-image that swings wildly between old hat and far-sighted. Autodrive is definitely the latter, and Arup's John Miles, who initiated the project, explains how the end result isn't just about the machines themselves (they're working with Jaguar Land Rover, Ford and Tata), but 'what this technology actually means for cities, for congestion, pollution, business and attitudes'. The consortium is combining work with 'conventional' cars with a system of autonomous pods, L-SATS (Low-Speed Autonomous Transport Designs), designed to mix freely with pedestrians in shopping precincts and small streets. Prototypes are expected by the end of next year, a testament to the need for multiple agencies to collaborate to affect major change.

Silicon Valley-driven innovation rarely reveals a sociological approach. Technology is about instant familiarity, ultra-rapid innovation and the lobster-pot-like embrace of a wider, all-encompassing eco-system. In contrast, a modern car company has a far firmer grasp of its image and perception, as well as the aims, intentions and aspirations of its customers. The auto industry is built on brand identity and loyalty earned, symbolized by the subtle sociological and cultural strata that have developed over decades. It remains to be seen whether these two models can ever successfully come together, let alone strike out and make significant inroads in each other's worlds. One scenario sees cars diminishing in cultural importance, whether they can drive themselves or not, and manufacturers transitioning into service industries. But it's unlikely that car companies will rush themselves headlong into irrelevance and it's even more unlikely that great swathes of the world's billion car owners will willingly give them up.
Autonomy is still a place for conceptual party tricks and wild speculation, with the stands at motor shows and CES glittering with glossy projections of tomorrow's toys. From avant-garde independents like Rinspeed with its quirky Oasis concept, through to mighty companies like BMW and Toyota, currently touting numerous autonomous ideas, there's still a strongly seductive whiff of futuristic thinking around the whole idea. In true tech fashion, there are also the startups to consider, including Faraday, Lucid, Otto, Nio and Lynk, all of whom are hoping to bake autonomous driving into their brand new products and seduce those looking to skip the last century of car culture altogether. Just like regular start-up culture, they're finding the path rife with missteps and false starts and internecine schadenfreude.

Right now, many modern production cars can offer a plausible simulation of driving themselves, subtly wiggling their steering wheels as they steam down the motorway. We are being conditioned to expect much, much more. An autonomous car might be entirely feasible, but the road ahead is winding, foggy and strewn with great unknowns. Perhaps we just have to trust that technology will show us the way.

As originally featured in the June 2017 issue of Wallpaper* (W*219)
INFORMATION
For more information, visit the Tesla website (opens in new tab), Rinspeed website (opens in new tab), Volvo website (opens in new tab), Toyota website, Volkswagen website and Waymo website (opens in new tab)
Jonathan Bell has written for Wallpaper* magazine since 1999, covering everything from architecture and transport design to books, tech and graphic design. He is now the magazine's Transport and Technology Editor. Jonathan has written and edited 15 books, including Concept Car Design, 21st Century House, and The New Modern House. He is also the host of Wallpaper's first podcast.