Maps of Light: Aesop launches seasonal gift kits with star appeal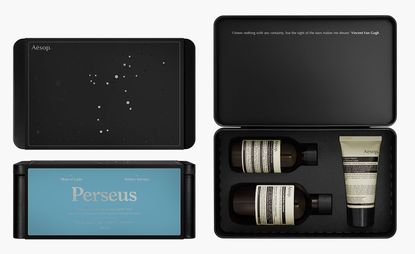 (Image credit: Aesop)
Marking the tenth anniversary of their seasonal Gift Kits, cult beauty brand Aesop is reaching for the stars this month with their Maps of Light celestial offerings.

Their new kits containing varied face and body care products, slickly packaged in re-usable black tins, are ambitiously themed around six of the eighty-eight 'modern' constellations: Auriga, Cepheus, Perseus, Andromeda, Delphinus and Cassiopeia. Each is wrapped in a striking sleeve that graphically represents its respective constellation and provides information about its Greek mythological associations.

'Our preference is to add value to the festive season with intelligent content and design over more traditional promotional techniques,' explains Aesop's Creative Director, Marsha Meredith.

The 2015-16 range offers two face care kits collectively comprising serums, creams and masques from the Classic and Parsley Seed families, whilst three body kits combine cleansers and hand balms plus a trio of the popular Geranium Leaf products. Skin and body care staples for men including a hydrating post-shave lotion complete the range.

'It was important for us to make a link between the Greek myth and product selection,' adds Meredith. Associations are subtle and eloquent. The constellation of Auriga references an Ancient Greek charioteer's helmet, so the kit's face and body essentials fittingly provide the essential natural 'armour' required to embrace the outdoor elements. Cassiopeia, a regal kit comprising rich anti-oxidant Parsley Seed products, befits the story of a queen who believed her beauty surpassed that of the sea nymphs and attracted the wrath of the sea god Poseidon.
INFORMATION
Available internationally at Aesop signature stores, selected stockists and at Aesop online (opens in new tab) from November
Photography: Courtesy of Aesop