Film director Luca Guadagnino collaborates with Aesop on new Rome store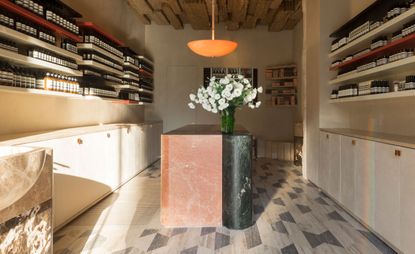 (Image credit: Aesop)
Can there be such a thing as fine-taste fatigue? Maybe it's fourth estate problems, but if there is such a thing, Aesop might have become a victim to it, if it weren't for shaking things up with their latest store opening in Rome.

Aesop and its visionary founder, Dennis Paphitis, wrote the manifesto for the anti-globalisation movement in retail and have led the way using promising and established architects and local vernaculars to embed the brand around the globe. Not only does it make every shop a local shop, it turns shopping into an experience, with the unique basin designs in every store, novel material use, inspirational interior architecture and considered refreshments. 'We try to stay true to the aboriginal saying "touch the ground lightly",' says the Melbourne man at a dinner this week to launch the Rome store, an inspired collaboration with the celebrated film director, Luca Guadagnino.
'Serendipity' is the word that both Paphitis and Guadagnino use when explaining how this unusual partnership has come about. Paphitis, one of the most culturally fluent people you can meet, founded the skincare brand 30 years ago but sold it (in part, and then wholly) six years ago to Brazilian cosmetics company Natura.
Supposedly now in a backseat, his unabated, quietly dignified pursuit of cultural connections (something that made this week's launch dinner at Rome's Villa Medici a fascinating gathering of fashion designers, restaurateurs, architects, actors and art directors) led him to handwrite a note to Guadagnino, inviting him for a coffee, when he found they were sharing air in LA's Chateau Marmont during awards season earlier this year.

Up to this point, Paphitis' pursuit of Guadagnino had been silent, manifesting only in his obsessive playing and replaying of the director's seminal 2009 film I am Love, and here was a moment to connect for real. Guadagnino, it turned out, was equally admiring of Paphitis and the architectural heights achieved with the Aesop brand, and what Paphitis didn't know at the time, as of two years, Guadagnino was heading up a studio of interior architecture, pursuing his fantasy career alongside his lauded film career, and had already cut his teeth on the interior of his friend Federico Marchietti's Lake Como house.
The pair soon found themselves on a train from Milan to Rome with Aesop's in house architect Jean-Philippe Bonnefoi on their way to view a location in Rome's Piazza San Lorenzo in Lucnina that had already been secured. A snowstorm blocked their way and a three hour journey turned into seven hours, which was seen as a good omen – ever since an unusually heavy snowfall over Milan greeted the film crew of I am Love, making for the stunning, eerie opening sequence, Guadagnino views snow as some kind of a lucky charm, while team Aesop knew that an unbroken rally of ideas and stories after hours on a train with a dwindling supply of food, water and wine could only be a good sign.

Paphitis showed Guadagnino a news clip about Maria Callas pulling out of a concert in Rome in 1958, and this became the rather odd launch pad of the store's design. Somehow though, the pair were speaking the same language, and the film director understood that imbuing the store with an essence of its locale, taking, for example, material and design inspiration from the San Lorenzo in Lucina church interior and melding this with cultural, material and form prompts taken from the time of that clip, a time when Pasolini was making an impact on the screen, and Carlo Scarpa shaped interiors, was what was going to make a success of the Rome store design. 'Everything was very organic from my first meeting with Dennis,' says Guadagnino. 'He is drawn by an idea of Rome that is not the usual. Rome relies on its vestiges in a lazy way and Dennis talked about a modernism that gave us an identity after the War. Our minds wandered through the canon of Pasolini and his aggressiveness of modernity.'
The harmonious mix of material is striking, along with the ease with which the store sits among the terracotta facades, the ecclesiastical architecture, the marble monuments of the area's interiors and exteriors. The previously featureless space is now filled with floating shelves in red, cream and black lacquer that hold the product, the lacquer a nod to Pasolini's signature spectacles. Blocks of straw in staggered relief form the ceiling, a detail drawn from Pasolini's film Oedipus Rex, combined with the peasant culture of Agro Pontino in Rome's immediate rural surroundings. The large curved glass pendant light, handmade in Murano, a one-off (since the back-up model broke) is a 1950s form that recalls the setting sun as seen from nearby Villa Medici.

The cream and mocha travertine floor tiles are inspired by the floor of nearby San Lorenzo in Lucina church, and the vast, monolithic counter and basins, formed from a patchwork of marbles, also taken from the church interior, have superb modernist curves and uncompromising mass. 'I'm a newcomer to the job and mindless to what is problematic, I can't understand why you can't do something,' Guadagnino-the-film-director replies to a question about the complexity of combining marble in this way, simulaneously acknowledging the talent of his architect sidekicks, Giulio Ghirardi, Nicolo Barbisotti and Stefano Baisi. 'I torture these guys.' The taps are unapologetically Scarpa-inspired, and along with the mirror, the bench, the Murano glass vase that sits on the counter, all is custom-made for the store by Italian artisans, all bar one low-hanging monastic pendant light, by Peter Zumthor for Viabuzzuno.

How do Guadagnino's two careers compare? 'They couldn't be more different. There is more discipline in the building of a physical space than the set of a movie. It just so happens that at the age of 45, I made my debut in interior design, inspired by my interaction with architecture.' Jack of all trades he may be, but he's mastering them all. His studio's sequel will be another retail project in New York's Soho, yet to be announced.
INFORMATION
For more information, visit the Aesop website (opens in new tab)