Common scents: Aesop's first book reveals the secrets behind its global success
A small hair salon from Melbourne has shaped the contemporary grooming industry – and the rest is hairstory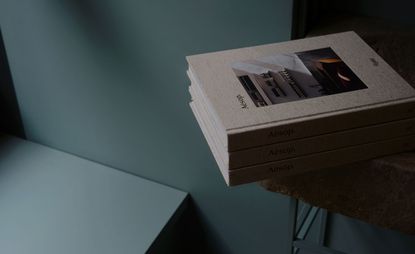 (Image credit: press)
Aesop's first book. The prologue reads: 'If you want to build a ship, don't drum up the people to gather wood, divide the work, and give orders. Instead, teach them to yearn for the vast and open sea.' Antoine de Saint-Exupery
It's easy to view Aesop as a caricature of itself – there's many copyists of the now 33-year-old brand, and plagiarists too, as the new book's introduction reveals. These apparently myriad pretenders have developed a retail-wide expectation that the Aesop experience is the new normal. Its architect-designed stores, its science-backed emphasis on sustainability, and its timeless visual identity have set a high benchmark for competitors, many of whom have fallen by the wayside. But at its point of origin in 1980s Melbourne, Aesop was not only unique, it was radical.

Founded by hairdresser Paphitis in 1987 in Armadale, Melbourne, Aesop set out to better the hair salon experience, offering clients a sense of both sanctuary and stimulation. Paphitis eschewed traditional tropes of customer service, in favour of the art of 'hosting'. Step into the ceramic enclave of Sloane Square's Snøhetta-designed store in London, for instance, and you'll be greeted by a knowledgeable specialist, the scent of eucalyptus, and a tiny cup of green tea.
'The retail industries commonly invoke "customer service". We prefer the idea of hosting. It is not fussy, or laboured, or false. It is not a means to an end, or an act of subterfuge. It is as simple and natural as inviting visitors to stay for dinner.' – From Aesop
As the chapter 'Bright Locks Admir'd' reveals, for Paphitis and his hair care followers, shampooing is not to be taken lightly. 'In the original salon, we came to understand hair as a primal part of the psyche,' the book reads. 'It became evident that for many people the way their hair feels is just as important as its appearance.' This now ubiquitous outlook – beauty from the inside out – was ahead of its time, and provided a solid foundation for the brand, as it moved into global expansion. The first employee Suzanne Santos (Product Advocate with the brand) was instrumental in the growth of the company. In 2010 Harbert Australia Private Equity bought a minority stake and Aesop used the capital injection to fund growth.

Look to any chic shopping district in cities around the globe for confirmation. Aesop has magnificently maneuvered and helped to drive the shift in consumer expectation towards environmentally friendly, mindful, and beautifully-packaged beauty and grooming products.

For admirers of Aesop's pared-back apothecary style, turn to the chapter on the visual identity of the brand, 'To All Appearances'. Here, we learn that the packaging codes remain consistent, with amber glass bottles (if safe and practical), black caps, and alabaster labels printed using black Helvetica and Optima Medium script. This palette of functional simplicity and visual strength has come to constitute Aesop's aesthetic signature, and appeals to those looking to beautify their bathroom cabinet.
The rest is hairstory. The book, roughly a year in the making, matches this considered Aesop aesthetic. More than coffee table fodder, a tactile cover unfolds to reveal a genuinely engaging story. And more than enjoyable poetic musings on haircare and scalp health, this is an interesting read from a business perspective, offering insight in how the brand selects and develops its international team. 'First and foremost, curiosity, creativity and passion underpin the brand and those that work here,' ever upbeat creative director Marsha Meredith tells me by phone. 'It's a testament to the vision and dedication of the founders, and our people – that continue to make us a success'.
INFORMATION
Aesop, by Jennifer Down and Dennis Paphitis, $75, available from 22 October 2019, published by Rizzoli. aesop.com
Elly Parsons is the Digital Editor of Wallpaper*, where she oversees Wallpaper.com and its social platforms. She has been with the brand since 2015 in various roles, spending time as digital writer – specialising in art, technology and contemporary culture – and as deputy digital editor. She was shortlisted for a PPA Award in 2017, has written extensively for many publications, and has contributed to three books. She is a guest lecturer in digital journalism at Goldsmiths University, London, where she also holds a masters degree in creative writing. Now, her main areas of expertise include content strategy, audience engagement, and social media.