A perfect match: Piasa and W* present 'William Wegman: Dogs on Furniture'
Piasa and W* present 'William Wegman: Dogs on Furniture'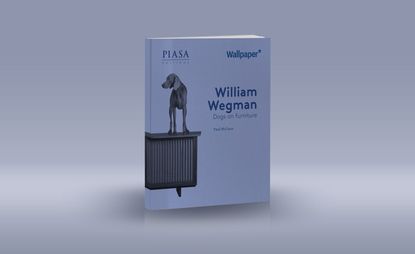 (Image credit: TBC)
Whoever said dogs and designer furniture were a perfect match must have been barking mad. Except they turned out to be quite right too. At least in the case of video art pioneer and conceptual photographer William Wegman, his famous Weimaraners and the late, great George Nakashima's furniture, that is.

The man with the 'mad' (read: genius) idea was in fact Frédéric Chambre of Piasa. It was by his suggestion that Wegman traded in his usual 'found' objects, stray furniture and inventive podiums in favour of Nakashima's classic midcentury furniture. The resulting collaboration is elegantly collected in Dogs on Furniture, the new book published by Piasa Editions (opens in new tab) in collaboration with Wallpaper*.

Documenting the successes of Wegman's wit and Nakashima's talent, the book – on sale at Wallpaper*STORE – is testament to the genius of that pairing. Each image is more endearing and engaging than the last; just when you think you can't possibly think of a new pose those ingenious dogs could find themselves in, they floor you with a simple cock of the head, a wag of their tail or a twitch of an ear. The furniture doubles as both prop and subject, silently sharing the spotlight with Topper and Flo.

In the words of writer Paul McCann, Wegman's work – and this book – are 'serene, and slightly insane; romantic and often surreal'.
INFORMATION
William Wegman: Dogs on Furniture is co-published by Piasa Editions and Wallpaper*; £36, available at Wallpaper*STORE (opens in new tab)