Paris Fashion Week S/S 2018 womenswear editor's picks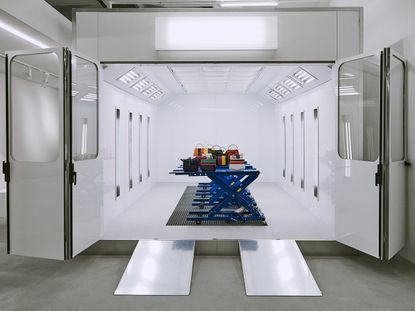 (Image credit: Thomas Goldblum)
Wallpaper* Newsletter
Receive our daily digest of inspiration, escapism and design stories from around the world direct to your inbox
Thank you for signing up to Wallpaper. You will receive a verification email shortly.
There was a problem. Please refresh the page and try again.
Byredo: For Ben Gorham, who founded fragrance line Byredo in 2006, 2017 has been a year going from strength to strength. In April, he teamed up with Frame Denim on its first menswear collection, and September's PFW celebrated 'Accelerated Culture' – the brand's drag-race inspired accessories capsule collection. The pristine white presentation space featured flickering films of car racing projected onto the walls, and rows of Byredo's latest bag designs housed in what looked like a sleek car garage. Patent, pop colour and metallic designs riffed on the bright and lacquered bonnets of racing cars, each shape designed to keep one's personal belongings protected from the bumps and bashes of every day life.
Y/Project: There's a reason why most young Parisian editors and fashionistas applaud Y/Project as their favourite show season after season. The brand, led by Belgian designer Glenn Martens, speaks like no other to a generation that has been spoon-fed Instagram, yet looks for something truly original. Last night's show was further proof, with Martens surprising everybody by starting his show with a series of looks that would have been preppy, conservative even, if they hadn't been twisted to the very core. In his hands, polo shirts took on a street edge and modest cardigans became provocative as brooches were pinned on them like bejewelled nipples. There were also the usual activewear elements (a nylon tracksuit artfully turned into a pleated maxi skirt, Juicy Couture-like cotton sweatpants) artfully mixed with historic references like 17th-century millefeuille necklines and ruched tulle. 'I have always been about the mixture: of eras, styles, subcultures.... That's still what makes me tick,' explained a cheerful Martens backstage, when asked about his inspirations. It also explains why an aesthetic that could go terribly wrong at the hands of another designer never fails to go terribly right at his.
Acne Studios: A set made of plastic curtains (yes, of the shower variety) welcomed guests at the Pavillon Cambon for the Acne Studios show. Hardly glamourous – or is it? As the first model marched down the runway, all ultra glossy satin trousers – so glossy that one couldn't tell whether they were made out of ultra luxurious silk or cheap polyester – and a latex bowling t-shirt, not only did all things synthetic instantly become glamourous, but also downright desirable. This collection was on a road trip somewhere between Southern California and Nevada circa 1970. It was Fear and Loathing in Las Vegas meets The Big Lebowski meets Paul Morrissey's films featuring Joe Dallessandro. Even the models looked a bit sleazy. The clothes even more so, in the best possible sense. Strutting to the psychedelic beats of Jefferson Airplane, the girls showed off a mixture of hologram-shaded belted jackets (the cuts and patterns had time-travelled staight from the 1970s, unmodified), cowboy leather shirts, crochet dresses, latex flared trousers and organza bowling shirts; the whole in a candy coloured palette and styled as brilliantly as it was designed. Which proves that, 'chez' Acne, life in plastic really is fantastic.
Sonia Rykiel: What's the difference between a Sonia Rykiel girl and any other girl? Well, the Sonia Rykiel girl has more fun. It has always been that way: at the French maison's shows, models usually walk down the runway with an upbeat attitude, shooting sassy smiles to the audience. It was that way last night. A bunch of girly models appeared on the catwalk sporting clothes perfect for a weekend by the French seaside (the straps of most of the dresses were even made out of seashells, a hippie's dream) as a French song provocatively spoke of the pleasures of the sea, the sun and dark chocolate. It was Frenchness at its best and, towards the end – with the satin evening dresses in macaroon-y shades of pink, cream, turquoise and pistacchio – also Rykiel at its best, with both a luxurious feeling and a realistic attitude. After the finale, models ran to the courtyard of the Beaux-Arts to jump on a bubble-gum pink trampoline. It takes someone like Julie de Libran to do that kind of thing in style.
Vivienne Westwood: Andreas Kronthaler is ready for a change. Against all odds, he has gone to the antipodes of the angry, booming protest-shows that we have come to get used to at Vivienne Westwood. This season was all about optimism. 'Colours, flowers. A riot of dance and song, joy and instinctive happiness. Pretty! Sexy! Noble! Over the top!' wrote Dame Viv on her press release. In today's messed-up world, when it constantly feels like we are on the brink of disaster and, to paraphrase Leonard Cohen, like the good guy's lost, sometimes the best possible protest is a refusal to let go of joy. The public seemed to be on board with that, judging by the enthusiastic applause to the show's finale, which featured live marimba music and a revisit of some of Westwood's pivotal archive pieces. There was more than one wink to the epic 1985 'Mini Crini' collection, mostly on Victorian bodices with puff sleeves (the one with the Vichy pattern was particularly lovely) but also through the Gainsborough paints printed and patchworked on silk dresses. But mostly it was about florals for spring, which might not be groundbreaking but felt really refreshing and spontaneous when used by Kronthaler in combination with the usual array of anti-globalisation activist staples always present on Westwood's catwalk. We are enjoying this new direction.
Elie Saab: A heavy cloud of powdery perfume welcomed us upon our arrival to the Grand Palais. It was a cocktail of the various scents of Elie Saab's faithful clients. Some of them were wearing diamond tiaras, some of them evening gowns, all of them smelt of luxury. Elie Saab knows who his clients are and has a flair for giving them what they want before they even know they want it. And so next summer, they will want python prints, saharienne jackets, and chiffon kaftans printed with palm fronds (those were actually really desirable for anyone wanting to look chic in a scorching hot weather). Plus, of course, jewel-encrusted princess gowns. All of this the designer put on the catwalk, in shades of cream, palm leaf green, sorbet yellow and pearl white. Most looks were modest-friendly (obviously Saab is still mainly catering to Saudi princesses), but long dresses paired with blazer jackets and XXL kaftans are also appealing to a wider audience.
Beau Souci: The label, founded by French designer Aurélie Larrousse, is known for its mix of laid back LA cool and French elegance. For the inspiration behind the brand's S/S 2018 collection, Larrousse dove into her teenage years. The outcome is a nostalgic offering of figure hugging jeans and oriental dresses, comfortable cashmere and prints finished with tribal elements.
Valentino: For those obsessed with the Rome-based house Rockstud's accessories range, Paris' Hôtel Costes is an essential stop off. Valentino's creative director Pierpaolo Piccioli, has created a limited-edition Valentino Garavani Rockstud Spike Bag, in burgundy velvet and with platinum hardware details, available at a temporary pop up shop at the hotel until 6 October. The style nods to Hôtel Costes' signature shade, and celebrates the place of the hotel, which Piccioli has visited for over 15 years, within his heart.
Atlein: Last season, after Atlein's very first runway show, word among the fashion crowd was that, even if the brand was undeniably interesting, they couldn't see who the real client was. Doubts quickly dissipated in yesterday's show. While the brand still retains its deceptively simple aesthetic – it takes a very complex patternmaking process to make everything look so easy – it has evolved from its previous collections, composed almost exclusively of dresses. Pantsuits with saharienne jackets opened the show, and with a lighter palette of beiges, blue stripes and colourful prints, the impeccable tailoring showed even more. It also had a more sexy element to it – in its short history, the brand has quickly become synonyms with bodycon dresses, but there were also exposed midriffs this time. Plus a more casual theme carried on by polo shirts – which are quickly proving to be the 'it' trend of the season, at least in Paris
Lemaire: Christophe Lemaire and Sarah-Linh Tran's brand is usually described as the Parisian answer to Margaret Howell: in different ways, both houses fulfill a mission to deliver fantastically good quality clothes with the most functional – at times even workwearey – ways possible. In the last few seasons, though, the French duo has been evolving towards something more 'fashion', though without ever forgeting its roots and its philosophy. The S/S show is the best example to date. It opened with a shimmery white satin dress and went on to show exaggeratedly draped blouses with a hint of a 1980s silhouette, tye dye print ensembles and then some more satin dresses. Which is not to say that the pieces Lemaire fans are fondest of were absent from the catwalk; pantsuits were still there, reworked in overblown proportions and usually worn in a colour-block way. With shades of grey-blue, terracotta, ivory and plum, they looked great. It is never difficult to see why the pair has such a loyal customer: they both know exactly what the brand identity is, where they stand and how to make it develop in the most organic of ways. And, in today's confused fashion landscape, that's a remarkable feat.
Isabel Marant: Hers is always one of the coolest shows in Paris. The atmosphere is always friendly, the music is super danceable, and the right 'it' girls are always present, both off and on the runway. But, this time, there were also the right 'it' boys strutting the catwalk, from the undeniably hot Clément Chabernaud to teen heartthrob Jordan Barrett, as the French designer introduced her first ever menswear line. It was all you could expect from Isabel Marant: chunky oversized knits in shades of tarnished gold and terracotta, leather trousers, flowy printed shirts.... hardly any different from the women's collection which, this time, felt more relaxed and boho, and less glitzy. The show opened with barely-there broderie anglaise mini dresses (so cute they are sure to sell out in record time), and a lot of activewear-inspired pieces. But who knew tomato-red nylon trousers would pair so well with flower shirts? Only Marant knows how to cook up those magical mixtures.
Marimekko: This season Marimekko moved away from the Finnish Embassy and settled in the grand space of Palais du Tokyo. Large panels of the brand's signature flowers formed the backdrop for a collection in which iconic patterns from the archive meet with prints by Paavo Halonen and Erja Hirve, the new generation of Marimekko design. Stripes were a strong element of the collection, as S/S 2018 marks the 50th anniversary of 'Tasaraita' its 'evenly striped' print. The season marks the first time the pattern has been used on woven cotton.
Ann Demeulemeester: In idiosyncratic black and white tones, Sébastien Meunier presented a darkly gothic yet euphoric collection for S/S 2018. There were tapered suits and long silk jackets, dressing gowns, waistcoats, leather jackets and coats with straight-jacket like straps. The collection was finished with froths of feathers, which were strewn around the neck, across the shoulders and as pagan headdresses, and slogan prints with the deeply nostaglic phrase 'Kids Forever.'
Delvaux: The luxurious Belgian bag brand presented a series of new silhouettes and finishes for S/S 2018. There were bright bags with multicoloured accordian pleats, and styles in more stripped back hues, like a grainy cream Tempête bag finished with oversized stitching or a pristine white detachable strap boasting strands of tribal fringing.
Yohji Yamamoto: What would happen if Jim Jarmusch made a movie about Japanese characters stranded in the Depression-era dustbowl? That was the feeling behind last evening's Yohji Yamamoto's show. No stranger to costume design – who could forget his otherworldly kimonos for Takeshi Kitano's 2002's film Dolls? – Yamamoto has an innate flair for the theatrical. And he can always create a dramatic atmosphere while simultaneously being thoroughly austere and eschewing all gimmicks. It was the case yesterday: as usual, most of the looks were of a sepulchral black (except for a few pops pf crimson and virginal white, a fire pattern printed into a couple of trousers and even a foray into grey tie dye). Models walked unhurriedly down the catwalk to the sound of a broken elecrtic guitar playing a few minimal country chords. Paperboy caps, berets and felt cowboy hats were paired with robe-like crepe coats and deconstructed dresses with surprisingly provocative cutouts in the back. Few things are better than the rare times Yohji goes sexy
Nehera: After the departure of the brand's creative director Samuel Drira in June, the Bratislava-based brand presented a S/S 2018 collection created by its design team. Models walked a sandy catwalk in clothes crafted from equally organic shades, like chic, slouchy drawstring trousers overlaid with long shirt dresses and jackets, a raw hemmed kimono and a pinafore dress paired with a shirt in a splash of yellow. In a nod to the pastoral silhouettes and shades, models sported plaits in their hair, a romantic element offset against more utilitarian details within the collection, like a shirt that detached with a set of horizontal buttons and bags that strapped across the body like gun holsters. When Nehera's design team shoot, they take amazing aim.
Pierre Hardy: the shoe designer took inspiration from the bright colours in abstract American art for S/S 2018, creating chic colour-blocked graphic sliders and vertiginous mules. Distortion was key here as a pair of low heeled mules with diagonal splashes of colour appeared flat, while a pair of pointed boots looked like a pair of yellow slip on stilettos worn with graphic grey ankle socks.
Malone Souliers: The S/S 2018 collection of the footwear brand was inspired by the surrealism of fairytales. This was seen through shoes embellished with hand folded roses, colourful tulle and kingly golden details. The brand's everlasting styles lived happily ever after in soft pastels and rich moiré.
APC: Jean Touitou presented a streamlined eight-look collection for S/S 2018, showcased at the brand's Rue Madame studio. The designer focused on two categories: deconstructed raw denim and feminine florals. We featured APC's A/W 2017 denim in the 'Match Made' story in our November issue, so imagine our delight at the brand's denim jacket reimagined as a gilet, jeans and a jacket combined into a sweeping coat, and a long skirt with an open apron-like back.
Ellery: For S/S 2018 Kim Ellery showcased an immersive digital presentation in a series of ornate gilded rooms at the Hôtel de La Salle. The presentation featured a digital catwalk film, alongside mannequins and glass cases displaying the brand's spring collection, plus live music by Maxime Sokolinski and Nicole Subréchicot. The covetable collection featured velvet roll necks paired with patent mini skirts and thigh high boots, smocked skirts and bralets crafted from unusual brown plastic and dresses with sensual cut-out panels and square shouldered tailoring. Particularly standout were the accompanying jewellery designs, which included oversized golden earrings accessorised with shells and marbles.
Jourden: 'I was thinking about the girly girl' said the Hong Kong-born and based designer Anais Mak of the inspiration behind her S/S 2018 collection. For Jourden's ultra-feminine presentation, the designer took classic silhouettes and added new elements within their construction, like an A-line skirt with a tweed-like fabric created from shiny cut-out plastic, and an oversized double-breasted jacket in a shiny iridescent check.
Verbreuil: It's fitting that bag brand Vebreuil's shop is located on the side of a church, as the intimate two-floor space, looked after by Sylvie Véron Hériard-Dubreuil and her three children, houses exquisite pieces made using the finest craftsmanship. We made a beeline for the brand's versatile graphic boxy shapes, which can be worn with or without a shoulder strap. The pieces are as luxurious inside as they are out, being lined with supple lambskin.
Brian Atwood: 'It's a combination of everything that I love,' said Brian Atwood of the footwear influences behind his S/S 2018 presentation at the Hôtel de Crillon. For spring, this meant punky studded sliders, fluorescent flats with oversized safety pins and platforms with 3D floral embellishments. A colourful pair of sandals also caught our eye, completed with a colourful conical heel.
Moynat: The luxurious French leather house presented a colourful and architectural collection for S/S 2018. Bags were shown on bright wooden blocks and included box designs with graphic leather marquetry, doctors' bags printed with floral blooms and a tiny purse-like version of the heritage brands Mini Gabriele bag, crafted in kaleidoscopic crocodile skin.
Lacoste: S/S 2018 marked the awaited return of Lacoste to Paris Fashion Week, and the brand did all it could to celebrate in style. At 10 am, guests arrived at an outdoors space in the Jardin des Tuileries, a set featuring a white runway with green details. All very Roland Garros, except for a stage in the center where a band played jazzy live music as the first few models started appearing. The collection was also a celebration of French style, more so than in New York, as proved by the copious amounts of slouchy jeans, oversized cardigans, polo shirts reworked to open on the side with a zipper, and nylon tracksuit jackets. Although a true Parisian would have worn them probably with sneakers instead of the kitten heels that were featured in every possible colour, the overall look felt easy and accessible. We wonder why is it so difficult to find in Lacoste's stores, the looks that we all see -and love - at every one of the brand's shows.
Carven: For S/S 2018, it was Serge Ruffieux's first foray into the Carven universe. Ruffieux - who came into notoriety while taking charge of the studio during the period between Raf Simons and Maria Grazia Chiuri - has quickly become a respected designer with a reputation for reliable work and knowing who his client is. In his first collection for Carven, he didn't disappoint. It quickly became clear during the show that the designer was speaking to city girls with a flair for fashion, but also for practicality. The collection was mostly composed of light dresses, sometimes draped, sometimes ruched, often paired with clever cropped hunting jackets. It all felt comfortable yet sophisticated, especially the accessories - printed multicolour moccassins and flats decorated with oversized pompoms, which added a lovely psychedelic feel to the mix and are sure to be best-sellers if the price point is right. First collections are always a tricky affair, true, but if this is a hint of what is to come at Carven, we're in.
Roger Vivier: The footwear giant made a maze made of red shoe boxes for the brand's Spring/Summer 2018 presentation. Along the way, we passed metallic cigarette cases, brightly coloured pointy flats, monochrome prints and the new Choc shoe- boasting a fine curved heel.
Robert Clergerie: It's been all change for the footwear label, which has recently welcomed a new CEO, Perry Oosting, and a new creative director, David Tourniaire-Beauciel, the mind behind Balenciaga's must-have footwear. At its presentation space, held a short hop from its sleek new store, Clergerie presented a collection that featured slip on loafers, chunky summer sandals with a plethora of straps, and plaited raffia sliders. The brand have also released their first ever sneaker, featuring signature weaved panels, which has already become its bestseller.
Frame: It was a spectacular season of new silhouettes and fabrications for Frame, as the brand presented a collection brimming with colourful tailoring, striped pyjama silhouettes and floral dresses for spring. The label has considerably expanded its ready-to-wear offering over the past few seasons, while maintaining a high-luxury focus on denim. In the beautiful presentation space at the Ritz, we had eyes for Frame's wide legged silk trousers with utilitarian pockets, skater-style jeans, wrap dresses with swirling blooms and a safari-chic suit with sandy trousers and a belted wide-lapelled blazer.
Monographie: The luxurious shirting label founded by Aude Casteja reintroduced a plethora of new styles for S/S 2018. There were shirts in wide black and white pinstripes, abstract splatter prints and fluted accordion sleeves. The brand is known for its seductive cut-out silhouettes, and for S/S 2018 presented a shirt with sleeves that spiralled like a slinky around the arm. Monographie also introduced a series of cotton dresses- some striped and off the shoulder, and others double layered with buttons and pleats, that are sure to fly off the shelves come spring.
Ottolinger: It was all aboard with Berlin-based brand Ottolinger, as the label staged it's S/S 2018 show on board a boat in the Seine. Christa Bösch and Cosima Gadient, the duo behind the brand, built on their label's deconstruction-focused codes for spring- with pieces frayed, knotted and burnt with a blowtorch. There were shirt dresses tied at the waist in ombre orange silk or executive chic stripes, cream double-breasted blazers and pocketed jodhpur trousers. The brand also embellished pieces with fake coins- a token of good fortune and a nod to their own Swiss background.
Anrealage: Kunihiko Morinaga's springtime offering featured a series of opening looks layered with thick straps, resembling the ties of straightjackets or the straps of a parachute. As the show climaxed, models stopped and stretched on the runway, and their movements caused various parts of their body to be illuminated.
Haider Ackermann: In true idiosyncratic style, Ackermann presented a collection of sleek and seductive tailored pieces, presented in a colour palette of merlot, black, white, creamy blue and gold. There were jackets and graphic dresses with futuristic cut outs, tops fashioned from drapes and knots of coloured fabrics and tapered trousers in shimmering fabrics and leather, all paired with androgynous pointed flats and ankle boots.
Theory: The brand's new collection offered a full summer wardrobe of linen suits, airy summer dresses and styles with a newer, sportier persuasion. When it comes to accessories the brand is going big, quite literally, with a new oversized shopper and a selection of larger pouches which can be worn as part of the brand's Transformer bag.
Tsatsas: The colour palette for the brand's summer styles was fresh and timeless with off-white and light brown tones, and of course the label's signature black. Tsatsas also presented two new styles, the 'Kilo' which riffed on the duffle bags of sailors, and the 'Sacar', a large pleated style, which folds from a large leather square.
Christian Louboutin: Happy summer days, images of children blowing bubbles, exotic destinations, and Breton stripes must have been on the mind of Christian Louboutin when he designed his brand's S/S 2018 collection. Its new spring styles were displayed in a set inspired by the drawings of the designer himself and featured a sailor plus an amalgam of Asian fortune cats.
Sacai: 'Beware, it's everywhere', was the enigmatic saying on Chitose Abe's T-shirt as she took a bow after her latest Sacai show. The same T-shirt had appeared on the runway a few minutes earlier, prompting editors to wonder whether it was a political statement. Nothing further from the truth. 'It's inspiration; it's everywhere', said Abe backstage afterwards. In today's messed-up world, it's good to see a positive vibe referenced in a fashion show. But Sacai is always full of good vibrations, and yesterday was no exception: Abe's ultra complex patternmaking seemed more complex than ever before. Were those garments hanging from the models' backs in parachute straps and knotted in the front real shirts and blazers? Or were they part of their dresses? Or a bit of both? The latter was the answer. It goes to show how clever a patternmaker Abe is. Her other staples were also there: like a blue poplin shirt fabric juxtaposed with lace, camouflage, organza and nylon and outerwear-inspired pieces in the usual twisty, patchworky style. The finale to the beats of James Brown's Get Up, selected as usual by Michel Gaubert was the cherry on top.
Tomasini: The brand's Ananas bag, which was introduced earlier this year, turned out to be such a big hit that for S/S 2018 the brand gave it a style makeover. The updated design was presented in different colours with graphic stripes- an alternative piece for those less inclined to Tomasini's signature pineapple silhouette.
Stella Luna: In the new studio space of Stella Luna, creative director Capucine Safyurtlu presented the brand's fourth collection. This included pointy heels and footwear with pearl embellishments and bow details. Creating colourful and playful styles, whilst maintaining an elegant feel, Safyurtlu knows where the balance lies.
Longchamp: The galleries which line St Germain, formed the inspiration behind Longchamps S/S 2018's collection. References to the African art displayed behind the gallery windows on the Left Bank, were seen in earthy coloured suede safari jackets and graphic tribal prints, which were splashed across the brand's iconic large tote bag.
Vince: S/S2018 marks the first collection by Vince's new creative director, Caroline Belhumeur. The collection stayed true to the casual feel one can expect from the brand, yet there were little surprises, like an elegant floral print and playfully placed strap details. One of our favourites was a pair graphic leathers sandals, the finishing touch to a Vince summer wardrobe.
Nicholas Kirkwood: It's been a busy S/S 2018 for the British shoe designer, who also debuted his collaboration with Bulgari during Milan Fashion Week. For his eponymous presentation during Paris Fashion Week- titled 'An Impression of Stolen Space', Kirkwood was inspired by the concept of removing elements from a full picture, or using negative space to encourage the mind to imagine spaces of larger volumes. S/S 2018's designs noded to these concepts- and featured zipped away sections of leather, hollowed heels and bleached colourless denim. Kirkwood's presentation space nodded to the architecture of Ricardo Bofill's 1968 La Muralla Roja- a modernist and pastel coloured housing development, which also formed the location of three short films which the footwear dseigner made with Rei Nadal.
Receive our daily digest of inspiration, escapism and design stories from around the world direct to your inbox
Jack Moss is the Fashion Features Editor at Wallpaper*. Having previously held roles at 10, 10 Men and AnOther magazines, he joined the team in 2022. His work has a particular focus on the moments where fashion and style intersect with other creative disciplines – among them art and design – as well as championing a new generation of international talent and profiling the industry's leading figures and brands.