Eye spy: graphic artist Vahram Muratyan lends his famous frames to Smythson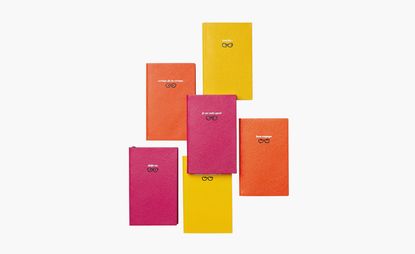 (Image credit: press)
Wallpaper* Newsletter
Receive our daily digest of inspiration, escapism and design stories from around the world direct to your inbox
Thank you for signing up to Wallpaper. You will receive a verification email shortly.
There was a problem. Please refresh the page and try again.
French graphic artist Vahram Muratyan speaks English almost flawlessly. But as his best-selling 2011 book Paris vs New York confirmed, he is also fluent in the visual cues that distinguish both cultures, reading these differences that are so often in plain sight. In a new collaboration with Smythson, he makes his mark for the first time in the realm of notebooks and stationery.

Both formats extend his subtle wit while keeping true to the traditions of Smythson's seminal designs. Whereas the books boast French figures of speech familiar to Anglophones – think dejà vu, je ne sais quoi and bon voyage – the stationery plays off his other preoccupation: time.

In solid, punchy hues, they combine Smythson's compact all-caps typography with Muratyan's extra bold, vaguely retro lettering, so that 'King of Delays' and 'Queen of Postponing' read like tongue-in-cheek self-descriptors. The collection's total impression lands softly between clever and kitsch. Or, as he describes it, 'I think it was like tagging a wall on a very respectful building. It's my tag.'

Seated in a cafe looking out to the Canal St Martin, Muratyan tells Wallpaper* how he was impressed by Smythson's collaboration with Quentin Jones in 2013 and was delighted when a confluence of connections afforded him a similar opportunity. The back-and-forth played out over five months and included a visit to Smythson's factory in Swindon where he was impressed to see the old die-stamping machines still in use. 'They go all the way,' he says. 'They have a sense of still doing things because they need to be alive in 2016. It's almost old-fashioned; and yet, it's not.'

Unlike his illustrated books, the collection relies almost exclusively on text – except for the black beady-eyed bespectacled icons that beam forth from the notebooks. Ever since Paris vs New York tome, famous filmmaker comparisons – ie 'Woody vs Godard' – have become somewhat of a signature, even more so because the artist can often be found wearing large glasses. For Smythson, they added an expressive flourish, a literal wink. 'I love things that are imperceptible,' he explains. 'It's very important to let people see things but have their own field of interpretation. You don't want to assassinate the idea.'

Which is why both parties decided against large graphics and sayings that sounded too cliché or, daresay, insensitive. Nouveau riche, for instance, was proposed but ultimately axed. 'It's easy to put people in boxes. Everybody does that. I want to go beyond that. That's how I always think about projects,' he says.

As for whether he feels he is contributing to a resurgence in hand-written correspondence, Muratyan believes that some people might collect the notelets with no intention of sharing them. 'For me, the idea is a work of art that's always at the limit of being usable,' he says. 'There is an irony to sending some of these out, or else putting them next to a flower bouquet.' Which is to say, considering a blank card as an objet d'art.
INFORMATION
For more information, visit Smythson's website
Receive our daily digest of inspiration, escapism and design stories from around the world direct to your inbox