Tod's explores the symbolism of shelter at Salone del Mobile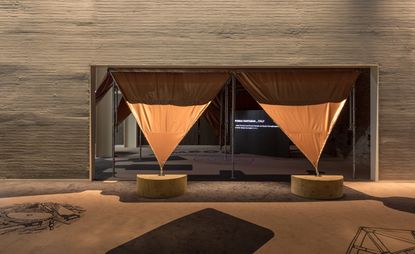 (Image credit: courtesy of Tod's)
Wallpaper* Newsletter
Receive our daily digest of inspiration, escapism and design stories from around the world direct to your inbox
Thank you for signing up to Wallpaper. You will receive a verification email shortly.
There was a problem. Please refresh the page and try again.
Contemporary life has broken age-old societal codes. We live in an agile state, working on-the-go. Luxury is not about owning property but existing peripatetically between time zones. We no longer exist in a physical form, but a digital one too. Fashion does not work in categories. Clothing must embody an amalgam of elements that cater to our ever-adapting lifestyles.

The concept of hybridisation fascinates Tod's men's collections visionary, Michele Lupi. The brand's latest creation the 'Shoeker' is a symbol of versatile amalgamous design. Conceived by Korean designer, Yong Bae Seok, its shape is a hardworking hybrid that unites the classic shoe and sports sneaker.

Lupi, the publishing industry veteran, who joined the Tod's Factory project last December, sees two antithetical and ever present strands in today's hybrid world. We live in an ever-evolving digital sphere, but as the world goes online, and we see evolution in VR and note the stronghold of social media, we also place new value on artisanal craft, and the power of human-made handwork. We value the tactile; something available to touch.

'No_Code Shelter: Stories of Contemporary Life', an exhibition conceived by Studio Andrea Caputo at this year's Salone del Mobile, is a show that explores this synergy. 'Caputo has always worked around the theme of hybridisation,' says Lupi of his decision to enlist the Italian architect for the project. For the exhibition, Caputo has looked to the history of primitive habitations – from tepees to Bedouin tents – erecting a series of time and continent spanning shelters inside the spacious Cavallerizze, in Milan's Museo Nazionale della Scienza e della Tecnologia Leonardo da Vinci.
'The idea has been to answer the question of how lives change based on changes in society,' says Lupi. The show features five shelters, a 'Yurt', 'Persian Camp, 'Museum', 'Pitched Hut' and 'Casamance', which guests can wander into at will, without following a prescriptive path. Inside each, a video interview is housed, filmed with a host of creatives, who operate from varying aesthetic standpoints.

These include Amsterdam-based Italian design duo Formafantasma; American car designer Chris Bangle; Japanese art director and racing driver Mai Ikuzawa; and No_Code Shoeker designer Yong Bae Seok. 'The protagonists in the videos discuss their own lifestyle and the result of choices they have reacted to in periods of change,' says Lupi.

'The exhibition offers a backward leap through eras and civilizations to the origins of our first human needs, housing and behavioral codes,' Caputo explains of its erected structures. 'No_Code Shelter' is also a starting point for reflection on construction technologies – the methodologies lost in the transition from manual to industrial and, today, technological construction'.

Each shelter in the exhibition is a symbol of human evolution and endeavour, and a response to environmental and societal change. Viewed together they offer an image of architectural advancement. Each video installation you'll find a modern day map of human advancement and a digital exploration of the myriad of lifestyles that exist today. 'The visual story of the contemporary protagonists matches the shelter concept and our dilemma,' Caputo adds. 'How do you live today? How will you live in the future? How will your habits change radically?'
INFORMATION
'No_Code Shelter: Stories of Contemporary Life' is on view from 9-14 April. For more information, visit the Andrea Caputo website and the Tod's website
ADDRESS
Spazio Cavallerizze
Museo Nazionale della Scienza e della Tecnologia Leonardo Da Vinci
Via Olona 6bis
20123 Milano
Receive our daily digest of inspiration, escapism and design stories from around the world direct to your inbox