Maker meets machine: the innovative artistry of René Caovilla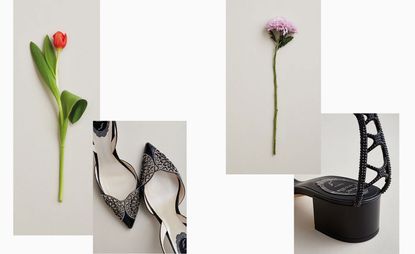 (Image credit: René Caovilla)
Embossed on the sole of every René Caovilla shoe is the silhouette of an elegant stiletto, with straps that coil serpent-like around the ankle. Adorned with glittering rhinestones, the Italian shoemaker created this now signature shoe in 1975, and it is has become a symbol of Caovilla's relationship with artisans in the Veneto region, who crafted the finest hides and finishes for his painstakingly detailed creations.

Caovilla also designed exquisite footwear for Valentino Garavani, Chanel and Dior, inspired by the technical expertise of his shoemaker father, who was renowned for his exquisite hand-embroidered designs. 'It's not a matter of reinventing, but evolving,' explains René's son Edoardo, who was appointed creative director and chief operating officer of the 82-year-old luxury brand in 2009. Operating from the original Fiesso d'Artico factory, Edoardo brings a creative approach that fuses third generation artisanal heritage with cutting-edge industrial process.
Caovilla's glittering creations are embossed with the silhouette of a stilletto on the sole
'Technology and innovation have always been at service to higher luxury handcrafting,' Edoardo says. Inside the factory, machines laser cut soft leather, while others count out the number of rhinestones needed to embellish every shoe design, from cut-out detail pointed flats to espadrille-sole sandals. 'Through these instruments we have discovered new creative paths to improve our techniques, most of which are family secrets,' he adds.

Edoardo cites the artistic and architectural heritage of Venice as a continued inspiration. 'Every time I stay there I am aware that the city gives me a certain unconscious knowledge in terms of proportions, colours and shapes,' he says. Using gold leathers, ochre embellishments, and grey marble and aqua flourishes, Caovilla's creations ooze modern Byzantine splendour.
INFORMATION
For more information, visit the René Caovilla website