The heart of Louis Vuitton: an exhibition of themes from the Parisian family home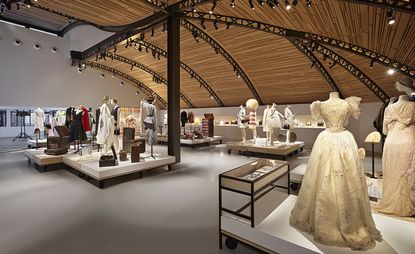 (Image credit: courtesy of Grégoire Vieille/Louis Vuitton)
In 1932, Gaston-Louis Vuitton invented Pateki, an object seemingly unrelated to his family's commercial legacy of trunks and leather goods. Consisting of six blocks, the small interlocking puzzle was dubbed a 'head-breaker' and according to the advertisement, required 'observation, research, precision, dexterity, calm and composure' to complete.

But the same could be said for assembling an exhibition – especially one that features 400 pieces selected from the Maison's archive of 165,000 documents and 26,000 items. Yesterday, on the site of Louis Vuitton's historic family home and workshop in Asnières-sur-Seine, to the northwest of central Paris, La Galerie came together as a fully-formed exploration of the family brand's heritage, from its inception in 1854 to the present day.

This was made immediately clear upon arrival, when guests were greeted with a Samsung phone tucked into a monogrammed case. When aimed down the gallery walkway, the phone's screen depicted a composite black and white panorama of the same scene from more than a century ago, when materials would be trucked in and trunks would be crated out. Carpenters and lock makers were once housed in the refurbished two-storey space that La Galerie now occupies.

The exhibition begins with an installation by Jorge Otero-Pailos, called The Ethics of Dust. Two giant casts of latex have been pressed into different sections of exterior walls; the varying accumulations of dust, captured by these velum-like sheets, offers a unique reading of time. 'Now the dust is separate but related to the building,' the New York-based artist and preservationist told Wallpaper*. 'When it's on the building, we tend to not realise it's there.'

The statement certainly resonates, and British curator Judith Clark was entrusted with capturing a certain essence of the Maison that had not been showcased in previous brand exhibitions, such as the 'Louis Vuitton – Marc Jacobs' retrospective at Les Arts Décoratifs in 2012.

For one thing, this presentation is thematic rather than chronological – a point that brings us back to the Pateki. Each theme is presented as a module that, when viewed from the floor plans, suggests a puzzle piece. Within each one, old is complemented by new.

In 'The Iris and the Rose,' a miniature zinc-lined trunk filled with flowers (here in silk) that Georges Vuitton would send clients for their patronage occupies the same platform as Damien Hirst's specially commissioned trunk in peacock blue. 'Going Global' features old international exposition photos accompanied by 3D-printed maquettes that replicate the staging in miniature. The lattice of ribbon inside old trunks provides a clue to the embossed pattern Nicolas Ghesquière designed for his debut malletage bags last year. And the calico that once lined the boxes gets reworked by milliner Stephen Jones as a feathered headdress, itself a nod to Marc Jacobs' final collection for Vuitton.

As Clark explains within the exhibition literature, 'I like the fact that something that might appear nostalgic when viewed as a fading photograph can be re-configured to be relevant to the here and now.'

The phone app, meanwhile, becomes an interactive accessory filled with videos, including a charming clip from family member Patrick-Louis Vuitton, who today oversees special orders and shares his grandfather's adoration of irises. It also subtly underscores what Ghesquière, in another segment, described as a 'search for innovation'.

Luckily for traditionalists, it's not a sentiment that spans the whole show: elsewhere, an artisan could be found assembling a Petite Malle trunk bag, securing the monogrammed toile with hardware that hasn't much changed since the creation of the original.