Tailored suits: make a style statement in a smart jacket
Smarten up your act with a selection of elegant men's jackets, whether your err towards check, pinstripe or tuxedo for your tailored suit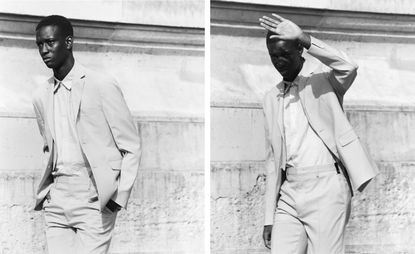 (Image credit: Alexandre Guirkinger)
Chances are, that after months in slouchy separates, you're considering splashing out on something a little smarter. The post-pandemic world calls for a return to more rigorous dressing codes, from tailored suits to smart jackets to shirting. Can't decide which tailoring style to invest in? Here, we present a selection of shapes and silhouettes, guaranteed to enhance your out-out wardrobe, from brands including Prada, Salvatore Ferragamo, Ermenegildo Zegna and Marni.
Tailored suits: how to smarten up your act
The nylon jacket
A sure fire way to bring a relaxed ease to suiting? Opt for a style in a sports-inspired technical fabric. Case in point: Prada's suit jacket, imagined in the brand's signature nylon fabric.
The pinstripe jacket
A pinstripe blazer is the pinnacle of the 1980s Wall Street wardrobe. Add a touch of 2021 insouciance with a pattern in a wider stripe. This tailored suit speaks of power but is pleasingly laid-back too.
The asymmetric jacket
For the more avant-garde, a jacket with an aysmmetric fit ticks all your alternative buttons. Opt for a style that fastens off-centre. This will brings an eye-catching edge to your collar proportions and corresponding shirt and tie choices.
The workwear jacket
If you can't quite imagine yourself in a fitted jacket, a more workwear-centric silhouette is for you. Think boxy, oversized and with a four-button fastening and opt for stiffer utilitarian fabrics like cotton-drill or canvas.
The skinny jacket
Obsessed with the skinny silhouette that dominated early Noughties fashion? Button yourself into a narrow blazer shape and pair with an equally skinny trouser silhouette. The Noughties has never felt so now.
The white jacket
When black-tie events return to our schedules, you'll want your tailored suit to stand out. Opt for a pristine white tuxedo jacket with a luxurious satin lapel. Avoid red wine and colourful cocktails at all costs.
The oversized jacket
A slouchy, unlined jacket makes for a comfortable spring silhouette. Wear with a light underlayer, like a T-shirt or gauzy jumper, for laid-back modern ease, a look that's enhanced when rolling up your sleeves.
The check jacket
While check or plaid jackets might feel a touch fusty, they're instantly updated with feel-good colours. Steer away from browns and greys and explore a colour palette rich in turquoises, purples and greens.