Six appeal: Sportmax's capsule collection of timeless black coats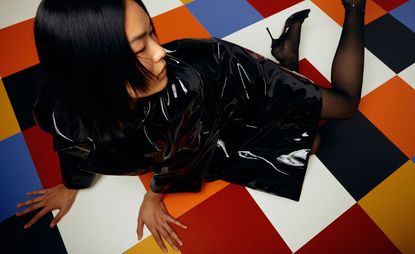 (Image credit: Joanna Wzorek)
Purist silhouettes are wardrobe heroes, synonymous with timeless, trend-subverting style, and are particularly appealing when they also have an ease-fuelled élan. Relaxed sophistication is the signature of Italian label Sportmax, which since 1969 has brought a sporty, fuss-free aesthetic to womenswear. 'The genesis of Sportmax was taking the idea of sportswear and introducing it into daily life,' Maria Giulia Prezioso Maramotti, US retail director of the Max Mara fashion group and granddaughter of the its founder, told us back in 2020 (W*252) when the label celebrated its 50th anniversary.
For A/W 2021, Sportmax has adventured through its own archive, placing emphasis on a silhouette essential to every woman's wardrobe: the beats-everything black coat. The result is a six-piece capsule collection inspired by heritage signature styles, imagined in tactile fabrics, including alpaca, wool, gabardine and faux fur.
Sportmax goes back to black for A/W 2021
Sportmax's time-travelling mission doesn't stop at its own archive. The brand has also tweaked the silhouettes in its collection by looking back to six women whose personal style was influential in the world of fashion, spanning from the 1900s to the 1990s. A coat with a cinched waistline nods to the 1940s muse and Christian Dior model Renée Breton, a vinyl jacket celebrates the 1960s style of Truman Capote ingénue Penelope Tree, while a statement-shouldered belted style recalls the Hollywood stature of Lauren Hutton in the 1980 film American Gigolo.
A timeless black coat, with its transformative power to conjure instant chic, should be an enduring addition to your wardrobe. With six sublime Sportmax black coats to choose from, your final buying decision may be defined by which decade of style you have most affinity for. Be it the 1950s or the 1990s, the forms of the past could shape your silhouette of the future.
INFORMATION