Solange Azagury-Partridge's collaboration with Ladurée hits the sweet spot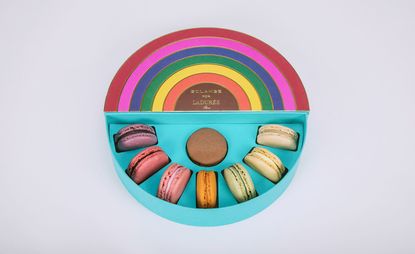 (Image credit: TBC)
Founded in 1862, Ladurée is renowned for its creation of the first double-decker macaroon. 'Solange pour Ladurée', the mouthwatering collaboration between Solange Azagury-Partridge and the French luxury bakery is a flavoursome match.
The London-based jeweller has created a macaron gift box, featuring eight individual flavours encased in a colourful cardboard rainbow. It features not only a fine spectrum of seven macarons (a nod to Azagury-Partridge's kaleidoscopic aesthetic), but her own newly developed 'Solangette' biscuit. Conceived by Ladurée's head pastry chef Claire Heitler, it is made up of two chocolate macaron shells filled with marmalade. 'It's based on an orangette, an orange peel covered in chocolate, and my favourite sweet,' explains Azagury-Partridge.
'My jewellery looks edible in a way,' she says. 'The coloured gemstones and enamels that I use are quite sweetie-like.' Take Azagury-Partridge's recent 'Poptails' collection, which features chunky cocktail rings crafted from colourful layers of ceramic and lacquer, resembling layers of food-dyed sponge cake or the strata of edible rock. Or the 'Smartie Mother Ring' in the 'Enamel' collection, evoking an assemblage of shining sugar-coated chocolate confectionary.
'I also design the way my jewellery is presented, which involves both packaging and display,' she says of her focus on product design. 'The macaron box represents my vision of the world. The rainbow is a signifier of every colour, and my practice is about exploring every shade.' We think it makes for a tasty mouthpiece.
INFORMATION
For more information, visit the Ladurée website and the Solange Azagury-Partridge website