White out: Snarkitecture imagines a 'colourless colour revolution' for Valextra
White out: Snarkitecture imagines a 'colourless colour revolution' for Valextra
Italian luxury brand Valextra unveiled the latest chapter in its ongoing series of aesthetic reinventions, with a new pop-up store design by American duo Alex Mustonen and Daniel Arsham of Snarkitecture. The pair worked on Valextra's via Manzoni boutique, applying their signature minimal aesthetic to the space – and for the occasion, Valextra's new collection was shown in an all-white palette ('a colourless colour revolution', as the brand calls it), merging with the Snarkitecture narrative.
'Clean lines have been a unifying trait of all our collaborators,' says Valextra CEO Sara Ferrero, who has been deeply involved in the brand's design collaborations, from Philippe Malouin's interiors for the London store to previous pop-ups by the likes of Peter Saville and Martino Gamper. 'We like [Snarkitecture's] combination of art and architecture, their chromatic purity and the fact that their work is minimal but always fun, ironic.'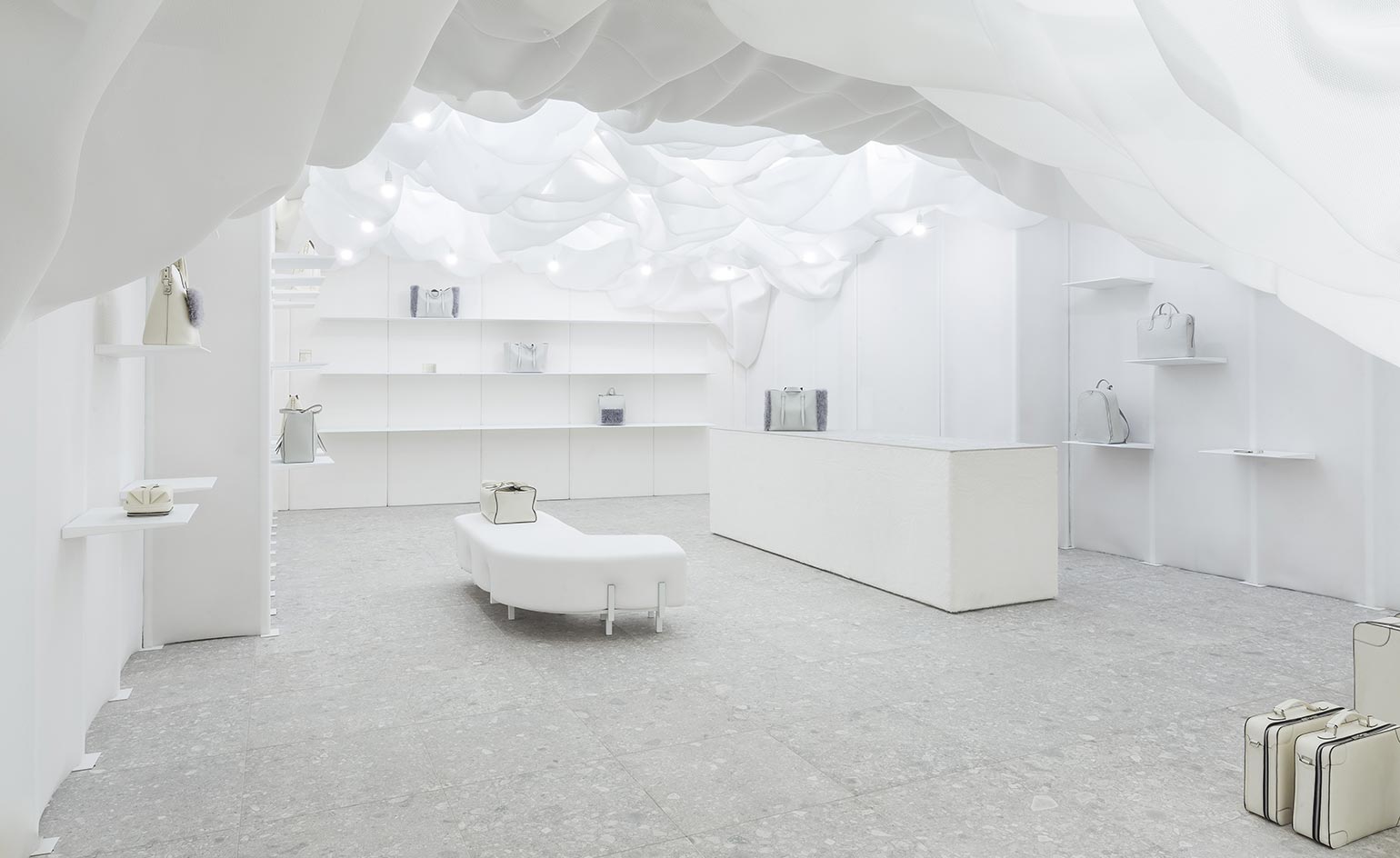 Inside Valextra's redesigned Milan boutique
The duo looked to Valextra's Milan base for inspiration, and at first sight were attracted by the stone of its buildings. Looking further into the urban environment, they noticed a mesh fabric wrapping the scaffoldings that covered building sites throughout the city, and they combined the two materials in an immersive installation.
'We were interested in the juxtaposition of hard, architectural surfaces with soft textures, as well as the play between precision and looseness,' says Alex Mustonen. The installation is a combination of these elements, with a mesh grid covering the walls and erupting in a cloud-like texture on the ceiling, to create what Mustonen calls 'a cavernous volume, that doesn't feel like an everyday architectural experience'. The raw stone is used on the floor and in display elements such as the central desk, adorned with a foam trim.
The luxury leather goods brand's new collection is also being presented in all-white
'Valextra's bags are very structural and architectural so we were thinking of playing with the idea of contrasting that with the space,' explains Mustonen. As with Valextra's past creative collaborators, he is passionate about the quality and timeless design of the pieces, and their versatility. The Costa bag's defining black edges is enhanced by the all-white palette, placing the collection centre stage in this installation.
'We are not trying to be fashionable,' adds Ferrero, 'we want to tell the brand's story. These collaborations form a constant dialogue reinventing the space around an iconic, timeless product.'