Sion and Moore's inaugural show of Nigel Shafran's work books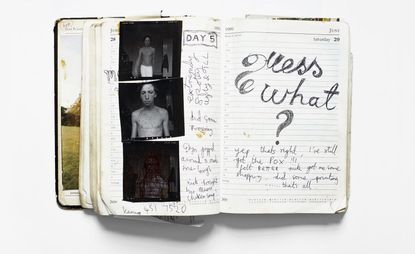 (Image credit: TBC)
Photography is omnipresent – but in the commercial gallery scene, it is still forging its way. There are still relatively few commercial galleries dedicated solely to the medium in London, but this week – as the Photo London fair brings some of the best photographers in the world to Somerset House – a new spot is setting up shop in Bethnal Green.

Calling themselves 'a bit of a rebellion against contemporary work culture,' Sion and Moore is the brainchild of Claire de Rouen director and curator Lucy Kumara Moore, and former agent and creative consultant Kim Sion. With their distinct backgrounds, the pair hope to create a new platform for photography in London where they can slow down and contemplate, rather than chase after trends in the art world. 'There are so few rules now about running a gallery which means it's a very fun moment to experiment together,' says Sion. 'We want to exhibit shows that go further than a collection of images hanging on the wall.'

Their launch show gives an inkling of the shape of things to come: a quixotic presentation of Nigel Shafran's Work Books, from 1984 to the present. Known for work that is rooted in reality and that elevates the banal to the sublime – stairs, escalators, supermarket checkouts and suburban garages – the books are a side of Shafran few will have seen.

'Nigel's work is so important to both young and established photographers – at Claire de Rouen it comes up in conversation all the time,' Sion, who has worked with Shafran for a number of years in various guises, explains.
Among the many moments of delight in rifling through the work book pages is the 'chicken pox' self portrait, a diary page dated 1991. 'It's so emblematic of the kind of self-reflexive thinking that a notebook invites – there's a self portrait – there's Nigel's big "Guess what" that creates a sense of intrigue and sensation for the imagined audience of the book – there are the words "Day 5" which sound like something from Big Brother.'

Rather than present the photographs he is celebrated for, the work books – part sketchbook, part diary – give a deeper, more intimate view to the artist's practice. The arrangement of his observations and notes, with labels and annotations, is one recurrent feature. As Sion remarks, 'The order of everything is so integral to his work. The unthinking thinking.'

Beyond the artist himself, the books, collected from across 30 years naturally 'evince the shifts in culture, technology and society that have occurred over recent decades,' finds Moore.

For Sion, stepping back out onto the street, the exhibition might give you a fresh perspective. 'I think Nigel sees the beauty in things that we all take for granted and that is a very important lesson. In this day and age we miss so many of the simple beautiful things in life. We all take too much for granted and don't open our eyes wide enough.'
INFORMATION
'Nigel Shafran: Work Books 1984 – 2018' is on view until 7 June. For more information, visit the Sion and Moore website (opens in new tab)
ADDRESS
Sion and Moore
4 Herald Street
London
E2 6JT
VIEW GOOGLE MAPS (opens in new tab)
Charlotte Jansen is a journalist and the author of two books on photography, Girl on Girl (2017) and Photography Now (2021). She is commissioning editor at Elephant magazine and has written on contemporary art and culture for The Guardian, the Financial Times, ELLE, the British Journal of Photography, Frieze and Artsy. Jansen is also presenter of Dior Talks podcast series, The Female Gaze.