Outside the box: Gwenaël Nicolas delivers thrills at Dolce & Gabbana's Milan flagship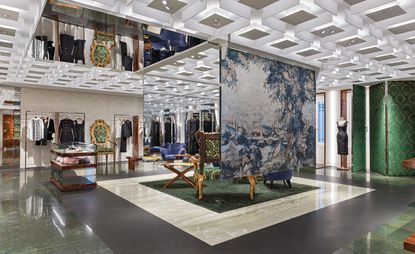 (Image credit: Gio Ponti and Ico Parisi)
Domenico Dolce and Stefano Gabbana are finished with fashion's 'consistency counts' concept store philosophy. Although it's been the reigning retail strategy for the Milan-based designers and the majority of luxury brands over the past two decades, the idea of creating a single interior look, Xeroxing it and pasting it onto 300 cities across the world is resulting in colossal boredom among customers corralled into identikit streets.

'Everything changes, we change – change is a constant element in everyone's life,' says Gabbana. 'The moment came for us, as well, [to create a] new selling strategy that would meet the wishes of our clients, passionate travellers always looking for something new and marvellous according to the city or country they are visiting.'

Consequently, the designers have embarked on an ambitious overhaul of shops in 12 cities across the globe, from London to Los Angeles and Dubai to St Barts, with different architects creating eye-popping looks for each location.
For their home town of Milan, where the duo debuted their Sicilian-singed, sexy clothing more than 30 years ago, the flag had to be particularly big and planted high up in the sky over the city's fanciest street, via Montenapoleone. To aid in the effort, they chose French-born, Tokyo-based architect Gwenaël Nicolas for the project, who has also conceived a dramatic space and a pop-up-theatre-like experience for Dolce & Gabbana's Tokyo store, revealed in August.

In Milan, things are less radical but still highly impactful. The shop unfolds within a magnificent three-storey, 18th-century stone palazzo, which Nicolas cut a hole right through to create 8m-high ceilings. He then cleared his mind of the brand's standard props and decorative extravagance. Across all 1,600 sq m of selling space, he swept away the sinister black-lacquered furniture, the sugary Sicilian treats, the heavy décor and the red velvet boxing. In their place is a pristine aesthetic language based on pure, clean lines that creates a space as sacred as an art gallery. 'I wanted it to be like a modern museum, not a shop,' the architect says. 'When Renzo Piano makes a museum he creates a skin, a beautiful context. If you were to remove all of these furniture cases, you could put a Richard Serra sculpture here and it would be totally appropriate.'

Although Nicolas has rinsed Dolce & Gabbana's shop of its usual starlet make-up, he has honoured and elevated the brand's rich iconography, finding fresh visual cues. Upon entering, visitors are met by a mammoth 18th-century gold-leaf mirror and matching side table, so gigantically proportioned and classically Sicilian that they could belong to no other brand. The rest of the shop is peppered with similarly exquisite baroque treasures, all fished out of private homes in Sicily, along with original chairs, loveseats and armchairs by Gio Ponti and Ico Parisi.

'Domenico kept telling me, "You do your thing, we'll do our thing,"' Nicolas says. 'He really likes this idea of mixing the Sicilian baroque with the clean lines of modernism.' Indeed, the store has a midcentury, straight-edged restraint, helped along by organic materials – briarwood furniture, lava rock floors, mesmerising green marble and pale green onyx – which are given space to breathe and emit their energy.

In many ways, the shop is like a forest of stone and wood, with its natural palette of brown and green. A golden-hued, varnished briarwood was chosen for the shelving, seating units, closets and furniture cases, which contrasts with the lush Brazilian Turtle Green marble that wraps walls and staircases with a controlled exuberance. Lava rock creates a smooth floor of cool, neutral stone and feels like a carpet underfoot, while Dolce & Gabbana's signature damask has been reconceived in green and used on the walls. Upstairs, in a fine jewellery salon, an entire room has been crafted from a wavy-lined, sea-green onyx that creates the feeling one is entering a shimmering jewellery box. 'The materials themselves are all very baroque,' Nicolas says. 'They are twisted, full of life, alive with motion. It's like seeing emotion frozen in time.'
Adding to their surreal, shadowless effect is a lighting installation by Barbara Balestreri, who designed a carpet of small lights overhead covered by what look like fluttering handkerchiefs. 'You feel you're wrapped in a golden glow of light,' Nicolas says.

A special VIP room has a series of doors that open up like a 1970s American game show to reveal mirrored cabins. And in the centre of the room is a giant box covered in an 18th-century tapestry print; with the touch of a remote control, all four sides of the box rise up to uncover a hidden sitting area. 'It's meant to be a living room that welcomes the clients to then unravel the collection as the box opens,' Dolce says.

'If we keep fashion just as fashion, we'll go nowhere,' Nicolas adds. 'Most brands just try to pack every inch with product, but then everything looks small and crowded. When you walk into this space, you think, oh, my God, I'm in a different dimension.'

As originally featured in the November 2016 issue of Wallpaper* (W*212)
INFORMATION
For more information, visit the Curiosity website and the Dolce & Gabbana website
ADDRESS
Corso Venezia, Milan, 20121
Receive our daily digest of inspiration, escapism and design stories from around the world direct to your inbox