Reef encounter: Paul & Shark drops anchor in London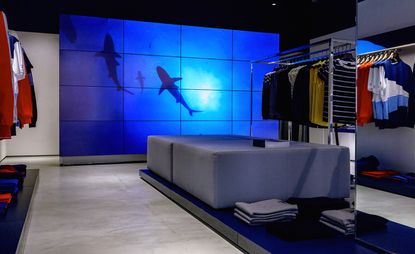 (Image credit: press)
Italian label Paul & Shark, a brand that gained recognition over four decades ago with its revolutionary water-repellent knitwear, has dropped anchor in London with a new flagship on Regent Street. Adding to its global boutique network of over 280 stores worldwide – including a Jakarta flagship which opened in November 2016 – the 2000 sq ft store, designed by the Present Agency Retail and Design team, houses a vast array of its performance-based men's and women's pieces.

Paul & Shark's namesake came about in the early 1970s, when Paolo Dini, son of mill owner Gian Ludovico Dini, stumbled across a sailmakers workshop in Maine, and noticed the sail of an 18th century clipper, inscribed with the words 'Paul & Shark'. The shark is an integral motif to the label. For its 40th anniversary Sharkflage collection, the label partnered with the photographer Chris Fallows, using an image the conservationist took of shark-infested waters off the South African coast, on a camouflage-focused print. In its new Regent Street space, digital screens nearly 3m high project images of this underwater predator.

The packaging of the label's signature COP918 pullover, rolled into a metal tube, is echoed in the use of mirrored stainless steel throughout the store. Modern flourishes are emphasised in the use of sleek glass and a steel blue colour scheme. We can't wait to set sail.
INFORMATION
For more information, visit the Paul & Shark website (opens in new tab)
ADDRESS
Paul & Shark London Store
20 Regent Street St James's
St. James's Market
London
SW1Y 4PH