This NY exhibition sees the Louis Vuitton trunk reinterpreted by 200 creatives
Louis Vuitton's '200 Trunks, 200 Visionaries' sees the house's iconic trunk reinterpreted by 200 global creatives, and has just arrived in the former home of Barneys New York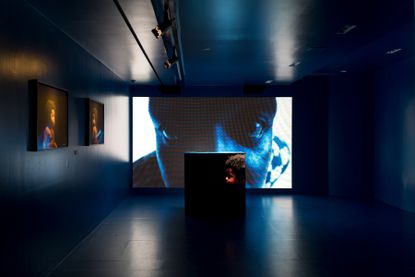 (Image credit: Louis Vuitton/BFA.com, Jason Crowley)
Arriving in New York in October 2022, travelling exhibition '200 Trunks, 200 Visionaries' by Louis Vuitton – initially conceived to celebrate the house's bicentenary – sees 200 global creatives reimagine its iconic trunk, spanning the world of art, fashion, design, architecture, beauty, and more. For its final stop, following Asnières, France (at the historic home of the house's founder), Singapore and Los Angeles, the exhibition lands in the former home of department store Barneys, 660 Madison Avenue on the city's Upper East Side. Spanning three expansive floors, the latest version of the show demonstrates the sheer breadth of the exhibits – from the contribution of art director Willo Perron, whose 'self-packing' trunk comes complete with hydraulics, to that of collage artist Francesca Sorrenti, who covered hers with classical images of French art history and culture. Elsewhere, design luminary Gaetano Pesce's deconstructed trunk resembles a wooden painted coffin with stencilled red lettering inside stating 'diversity is humanity's treasure', while Argentinian weaver and textile artist Alexandra Kehayoglou's pastel hand-tufted tapestry evokes ancient landscapes. Many more visionaries, including Frank Gehry, Li Edelkoort, Es Devlin, Michel Gondry, Wayne McGregor, Pat McGrath, and Urs Fischer, have also interpreted the iconic LV trunk.
Alongside, on the light-filled ninth floor, Barneys' former restaurant Freds – an iconic uptown lunch spot – will be revived for a special pop-up until the end of 2022. The eatery will feature special-edition chinaware and linens bearing the logo 'Freds x Louis', along with a colourful array of crystal glassware in shades of purple, pink, yellow and turquoise. The menu will feature original Freds favourites, such as chopped chicken salad, a cone of fries and its seminal Manhattan cocktail. On the ground floor, departing visitors can explore the pop-up gift shop, which carries hard-to-come-by pieces such as the Virgil Abloh-designed 'tin of paint' cross-body bag from the men's A/W 2022 runway show and a monogrammed trunk that doubles as a portable speaker.
In celebration of the exhibition's final iteration, we revisit an interview with Louis Vuitton's visual image director, Faye McLeod, from our October 2021 issue (W*264).
Louis Vuitton '200 Trunks, 200 Visionaries' exhibition
'We're always trying to tell a story,' says Faye McLeod, Louis Vuitton's visual image director. 'But when it's our founder, not the brand, who is turning 200, we wanted to really celebrate the man. We wanted to talk about this person who was born on 4 August 1821, in the village of Anchay [in France's Jura region], and had the imagination and creativity to build this business aged only 33.'
Monsieur Vuitton's now iconic travelling trunk was an item of innovation in its day: clad in canvas, the water-resistant box was leagues ahead of its competitors, which featured curved tops so that rain would run off them, and therefore couldn't be conveniently stacked. 'He built a travelling system that was more efficient and more suited to the Industrial Revolution of his age,' explains Ansel Thompson, Louis Vuitton's art director and McLeod's right hand.
McLeod has a track record of conjuring mind-expanding magic for the house (she has masterminded fantastical window displays with Olafur Eliasson and Frank Gehry, crafted dancing lines of Yayoi Kusama-spotted mannequins, and even created a life-size steam train for the A/W 2012 show.) So naturally, for Monsieur Vuitton's 200th birthday, she dreamed big. 'When I'm stuck for an idea, I always go back to the mantra pinned to my wall,' she says of the A4 piece of paper that reads, 'Louis Louis Louis, can't you see how your world does amaze me?'
That trunk became the linchpin for a celebration of grand scale. 'We thought, why don't we find 200 people who amaze us?' says McLeod. 'We tried to make it as globally reaching and diverse across age, gender, ethnicity, and also including both emerging and established talents – a celebration of how creativity can come in all shapes, sizes and disciplines.' To help with the immense task of collating the names, McLeod and Thompson crowdsourced input across the business, also consulting Bernard Arnault's regular art advisor, Hervé Mikaeloff, and Virgil Abloh. Visionaries spanning the creative industries, as well as science, ecology, and more, were enlisted. 'It's a real cross-section of now,' says Thompson. Participants include Es Devlin, Frank Gehry, Peter Marino, Cao Fei, Alex Israel, Michel Gondry, Li Edelkoort, Wayne McGregor, Pat McGrath, Urs Fischer, Gloria Steinem, Jaron Lanier, Drake and more.
The brief? To reinterpret the famous Louis Vuitton trunk for today, using any medium available – as wide-ranging as AR, spoken word, performance, video, sound, sculpture and paint. Each visionary received a block of poplar wood (the original wood used to make the trunks) in the approximate dimensions of the original travel case (50 x 50 x 100cm). Some boxes even had to be quarantined when arriving overseas due to the pandemic. 'It was really important to not be retrospective, but to celebrate the future,' says Thompson of the brief he delivered 200 times via video call to individual collaborators.
'There's a flying trunk,' says McLeod of the work of Franky Zapata, an inventor she discovered on Instagram. 'He flew it through the Place Vendôme store; it was as noisy as an aeroplane taking off!' Artist Jean-Michel Othoniel created a 'trunk of hope', a stack of glass bricks blown in the region of the Taj Mahal in India, inspired by the piles of clay bricks found by the side of the road in the region. 'Those amber stacks wait to be turned into homes. They are the dream that everyone has: to build your own house one day,' he says. Fashion designer Samuel Ross says his minimalist red metal structure, which incorporates the iconic LV Damier square, 'signals Vuitton's deeply ingrained relationship towards motion, engineering and technology through the artisan's lens'. Pierre Yovanovitch, who created a console with multiple drawers using 27 smaller boxes, says his 'interpretation of the trunk is as a "box of ideas" symbolising the creative process.' Held in place by invisible magnets, the boxes can be stacked in multiple ways to create storage for a dressing room or kitchen. Flowers are central to artist Azuma Makoto's work and he transformed his trunk by papering the exterior with seed packets. 'Seeds ride upon the winds, are carried by a bird, crossing borders and the times,' he says. As for botanist Mark Spencer, he requested to see LVMH's published plans for future environmental responsibility before signing up: 'We passed the test,' says McLeod.
INFORMATION
A version of this article appears in the October 2021 issue of Wallpaper*, available in print, on the Wallpaper* app on Apple iOS, and to subscribers of Apple News +. Subscribe to Wallpaper* today!
Louis Vuitton's '200 Trunks, 200 Visionaries' exhibition will be open at the Barneys New York Building from October 14 – December 31 2022.
Receive our daily digest of inspiration, escapism and design stories from around the world direct to your inbox
Tilly is a British writer, editor and digital consultant based in New York, covering luxury fashion, jewellery, design, culture, art, travel, wellness and more. An alumna of Central Saint Martins, she is Contributing Editor for Wallpaper* and has interviewed a cross section of design legends including Sir David Adjaye, Samuel Ross, Pamela Shamshiri and Piet Oudolf for the magazine.