Menswear mecca Pitti sees a fresh A/W 2015 line-up including Marni, Hood by Air and Olivier Saillard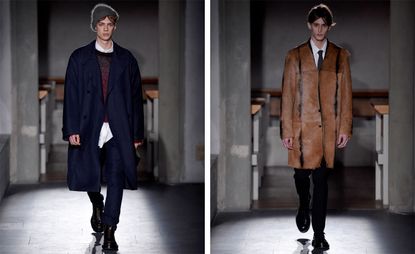 (Image credit: press)
After a tough couple of seasons, Florentine menswear trade show Pitti Immagine Uomo returned in strong form this January. A scheduling clash with the thriving London Collections: Men had prevented many from attending - and, potentially, put off some designers from showing.

That logistical hiccup has been resolved this year and, to top things off, the Pitti board pulled in one of its most acclaimed names in a while as guest designer - Marni. Founder Consuelo Castiglioni recently celebrated her label's 20th anniversary, so it made sense that she opted to do something special with her A/W 2015 menswear collection.

Marni normally shows in Milan with a small presentation of clothes on hangers, so a catwalk show, held at the Museo Marino Marini, was an exciting prospect. The venue provided a source of inspiration to Castiglioni, who drew on its successful juxtaposition of the tradition with architectural innovation. The result was a confidently modern collection that playfully riffed on the past - see those Seventies flares and cheerful retro prints.

Naturally, fur formed a key part of the collection, though Castiglioni used it with a light-hearted touch, nodding to her label's reputations for offering something a little off-the-wall and unexpected. Gilets came in bright multi-coloured dyed sheepskin - a modern day technicolour dreamcoat - as backpacks came furnished in goat hair. This playful spirit extended to the tailoring - Castiglioni was inviting the suited and booted Pitti peacocks to mix things up by showing broken suits in clashing checks.

While a celebrated Italian label like Marni may have felt like an expected choice for Pitti, Shayne Oliver's New York-based label Hood by Air, the other main guest designer on schedule, was more of a surprise. Oliver's streetwear brand, founded in 2006, draws on music culture and has a forceful reputation for challenging expectations surrounding gender, sexuality and masculinity. He's hugely popular with young fashion enthusiasts and his HBA branded t-shirts spawned a legion of fakes. However, Hood by Air is fast becoming part of the establishment.

Last year in May, he was included on LVMH's 'Special Prizes' awards list, so it made sense for Pitti to extend its seal of approval, even if the suits decorated with floor-length hair extensions and bondage-style trousers he showed will unlikely find a ready market amongst Florence's sartorial brigade. That said, Oliver was clearly using the platform as an opportunity to progress rather than simply shock - his focus on tailoring rather than casualwear was new and felt appropriate for Pitti.

Then for those looking for something slightly more cerebral, Olivier Saillard and Tilda Swinton staged their new performance - the final in a trio of collaborations. Entitled 'Cloakroom', it saw Swinton invite the audience to 'check in' their coats with her, sparking a variety of semi-improvised sequences that seemed to play on the emotion and history our clothes become embodied with as wear them. The message was Pitti perfection.