Louis Vuitton and Yayoi Kusama extend collaboration to Selfridges concept store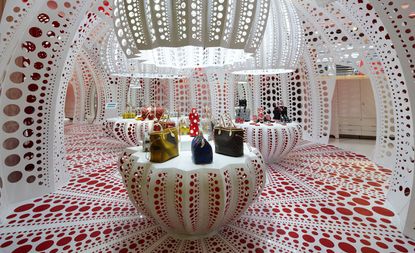 (Image credit: press)
Kusama (opens in new tab) fever has been spreading for a while, and it's officially in its most virulent stage. The Japanese artist, who created a spectacularly dotty limited-edition cover for our W*159 June issue, has been the subject of a worldwide retrospective that this year toured to the Centre Pompidou (opens in new tab) in Paris, the Tate Modern (opens in new tab) in London and New York's Whitney Museum (opens in new tab). The infection has spread to the fashion realm too, with her iconic polka dot patterns being picked up on a line of leather goods and a small ready-to-wear collection for Louis Vuitton (opens in new tab), launched in July.

The 84-year-old artist's assured collaboration with the French fashion house - for which she has also been commissioned to create a series of 'worldwide windows' for its stores around the globe – is arguably Louis Vuitton's smartest artistic coup to date. Now they've extended the collaboration to London's Selfridges (opens in new tab).

Twenty-four windows of the department store have been polka-dotted by the artist. Louis Vuitton and Kusama have essentially 'taken over' Selfridges in celebration of the second wave of the collection, which will hold court exclusively in store until 19 October, when it will then be available in Louis Vuitton stores.

The dotty assault, a signature the contemporary art maven has used to define her paintings, sculptures and installations through the years, continues inside Selfridges' Concept Store – a space designed to house ephemeral special projects such as this. Here, giant be-dotted pumpkin structures - another hallmark of her work - frame Louis Vuitton's new collection by Kusama, which all feature repeated patterns in a colour-pop of vibrant hues.
ADDRESS
400 Oxford Street
London
W1A 1AB
VIEW GOOGLE MAPS (opens in new tab)