We're snuggling up in Lauren Manoogian's sustainable, naturally toned designs
The Brooklyn-based designer journeyed to the The Nakashima Foundation for Peace in Pennsylvania for her cosy A/W 2019 offering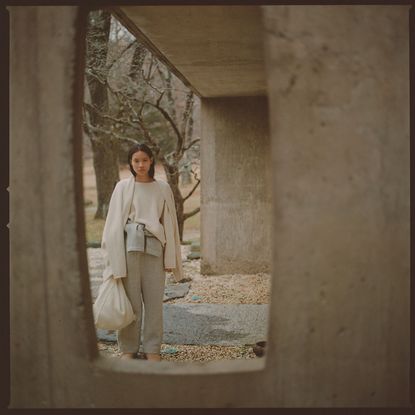 (Image credit: press)
As we dive even further into the impossible-to-touch digital realm, so our relationship with physical tactile objects becomes tantamount. Brooklyn-based designer Lauren Manoogian has long had an affinity with natural forms. Plush alpaca, Peruvian Merino Wool and curled yarn all feature in the designer's snuggly, natural world-hued A/W 2019 collection, bulging with cosy polo necks, pocket detail dresses, bow legged trousers and squidgy pillow-like bags. Hand crochet and hand looming are all part of the label's luxuriously artisanal lexicon.

'People work on their phones or computers looking superficially at a deluge of images all day long,' says Manoogian of the importance of artisanal manufacturing. 'I think the return to craft today is a reaction to that level of superficiality, and image-based sensory overload and consumption.'

It's a well-honed fit then, that for her A/W 2019 lookbook, the designer made a pilgrimage to the former home of George Nakashima in New Hope, Pennsylvania. The woodworker, furniture maker and architect is seen as the pioneer of the American Craft movement, favouring natural finishes, timber with figured grain, knots and burls. Outside in Nakashima's rock gardens, Manoogian's models stand in snuggly layers, and slip into soft slipper-like mules inside the historic property's wood paneled rooms, surrounded by hunks of wood or spindly three-legged stools.
Manoogian founded her fabrication-focused, organically hued knitwear label in 2010. She began her career creating knitwear for other labels, but became frustrated with their unerring desire for novelty, opting instead to design pieces in organic, pared-back tones. She has long standing relationships with small wool producers and manufacturers in Lima, Peru, and with her commitment to natural fibers and a reduced carbon footprint, Manoogian has worked with a sustainable output from the get-go. 'Handlooming sweaters, working within undyed colour palettes and fostering relationships with our collaborators…they define the many reasons I started the collection,' she says. 'Sustainability is not a word we use as a marketing tool, it's how we've always operated and continue to do so'.

In today's hype driven world, Manoogian's pieces have everlasting promise. For A/W 2019, she continues to evolve her signature hand crocheted bowl bag, inspired by 'representing the idea of a basket in the most direct way'. For autumn the seamless, monolithic style has been felted in sweater-inspired wool blends. Before founding her label, Manoogian had plans to launch a jewellery label. For autumn, she has collaborated with Erin Considine on softly shaped pins and earrings in sterling silver and brass, using joining techniques which nod to Nakashima's woodworking approach.

'Both Nakashima's furniture and home impress that there is connection between human manipulation and the organic and natural state of the medium in question,' Manoogian says. 'That principle relates very much to my design process.'
INFORMATION
laurenmanoogian.com (opens in new tab)