Strokes of genius: a new tome captures the illustrative ingenuity of Kenzo Takada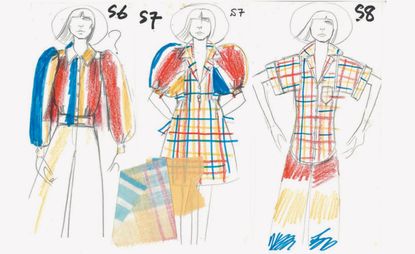 (Image credit: © Kenzo Takada)
In 1964, at the age of 25, Kenzo Takada embarked on a month-long voyage on the ship Cambodia, from Yokohama, Japan to Marseille in France, before taking a packed train to his final destination – Gare de Lyon in Paris. 'I went through South East Asia, India, West Africa, and finally Europe' he explains. 'It was such an incredible experience to discover so many different cultures and aesthetics in such a short amount of time'.

Now, a new ACC Art Books-published tome celebrates the visual and creative journey of Mr Takada's kaleidoscopic career, one which began in a flurry of vibrancy, flourishing floral patterns and brushstrokes of saturated colour, unfamiliar to Parisian eyes, when he opened his first boutique 'Jungle Jap' in Galerie Vivienne in 1970. It was his aesthetic, one ablaze with floral prints, and featuring sweeping skirts,flat kimono shapes, colourful shawls and turbans in simple cottons, which pioneered the concept of easy and effusive ready-to-wear, and subverted the stiff traditions of haute-couture salons.

From Takada's first show in his intimate boutique – its walls painted with a reproduction of Henri Rousseau's The Dream (1910) – until his last in 1999 (before he departed the brand which had been acquired by LVMH six years before), the revolutionary designer held over 60 exuberant fashion shows. 'Out [the models] surged, like brilliant sunflowers, everyone loved this new, youthful fashion,' says writer Chihiro Masui in book's introductory section, of Kenzo's second autumn/winter show.
The book comprises several vibrant sections, from 'The Drawings', a breathtaking collection of Mr Takada's fashion illustrations, complete with his signature one-eyed wink, strokes of imaginative pencil colour and fabric swatches. During his career, he produced over 7,800 fashion drawings. 'I did so many sketches it was very hard to decide on a selection from the book,' he explains. 'My creations for the fashion industry were always colourful, had graphics and patterns, and conveyed joy and positivity.'

'My Life' offers a photographically led history of Mr Takada's life, from his birth in the castle town of Himeji in 1939, to images of his early days in Paris, posing with his first record player, visiting the Jardin de Tuileries and painting tropical scenes onto the walls of Jungle Jap. 'The opening of the store bought a certain freedom and off the wall aesthetic,' he says.
Elsewhere, sections document the creation of a single wedding dress for Kenzo's A/W 1982 catwalk show, made from a 20-year stockpile of beautiful coloured ribbons, the 1989 Liberté exhibition held at the Seibu department store in Tokyo and Hejimi for the bicentennial of the French Revolution, and his breathtaking final fashion show in 1999, walked by the designer's friends and long-time collaborators. 'Themes from throughout my whole career were on show: Japan, China, Africa, Ancient Greece, Romania, flowers and Paris. It was terrific party. I was very happy,' he writes in the section's prologue.

There is also an epistolary thread, as the book is interspersed with letters which Mr Takada wrote to his 'Maman' during his sea voyage to Paris and his tenure in the city. 'All the flower shops are full of beautiful flowers,' he writes to his mother in April 1965. 'There are lots of flowers I've never seen in Tokyo, like anemones, mimosas and others whose names I don't know. When I walk past a flower shop I feel very cheerful.'

Blooms were integral to Mr Takada's aesthetic, and trailed and flourished across kimono shapes, oversized jackets and chic skirt suits. The book's cover also nods to this inspiration, featuring an original tiled design inspired by peonies. Just like the high spirits he felt taking in the splendour of nature in Paris, it's sure to make you equally joyful.
INFORMATION
Kenzo Takada by Kazuko Masui and Chihiro Masui, published by ACC Art Books (opens in new tab), £55