Flight of fancy: Paola Navone breathes new life into Hong Kong boutique Joyce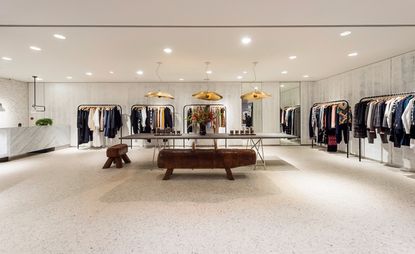 (Image credit: Paola Navone )
Since 1970, Chinese luxury retailer Joyce has been the go-to place for curious shoppers. For Italian architect and designer Paola Navone, Joyce's prestigious outpost in Hong Kong is similarly significant. She lived in the city during a formative period in her career and, after calling both Asia and Africa her home, currently lives between Milan and Hong Kong.

When Joyce turned to Navone for the refurbishment of its Central branch, the designer was spurred by the thought of transforming a familiar space. She explains: 'Joyce is the most interesting shop in Hong Kong – it's a point of reference with a very strong identity. I wanted to merge a new vision and spirit with the old one.'

Using her signature tham ma da (Thai for 'everyday') technique, Navone's design connects Joyce's four floors by filling the space with seemingly ordinary elements taken from the everyday, and elevating them to points of interest. In the lower ground floor's menswear section, Navone lets her favourite colour (blue) and her trademark fish motif catch the eye. Here, the rich hue contrasts with the industrial finish on wooden floorboards and metal piping.
The ground floor begins with the womenswear experience in a low-ceilinged space that's hung with tinsel, which leads into a bright main retail area. Sinuous wrought-iron rails anchored by sandbag-like weights, a vintage gym-horse that passes for a bench and whitewashed jute wall linings are examples of Navone's eye for turning the ordinary into something intriguing. Scalloped, illuminated rails and a price-tag wall behind the shop counter are playful touches that hint at her tendency to mix and match a variety of shapes and textures into her spaces.

'I like to put very different things together that are simple but expressive,' says the designer. The first floor, which displays shoes and beauty products as well as featuring a VIP loft with treatment room, is the apex of that aesthetic. Its striking floor, in yellow, white, grey and pink poured resin inspired by spilled nail polish, is completely unique. 'I prefer to work with materials in which you can still see the imprint of the person handling it', explains Navone of the process – the results depends on who pours it and how.

The terrazzo floor on the ground level, which was sanded to highlight its flaws, and the imperfectly hand-painted polka dot walls in the staircase leading to the additional mezzanine exhibition space, are other expressions of Navone's philosophy. To her, it's all an exercise in celebrating imperfection – this time in a place dedicated to unhurried shopping, in a metropolis with a hasty pace.
INFORMATION
For more information, visit the Joyce website (opens in new tab)
ADDRESS
G/F, New World Tower
16-18 Queen's Road
Central
Hong Kong