In the fold: Issey Miyake, Ikko Tanaka, and the art of fashion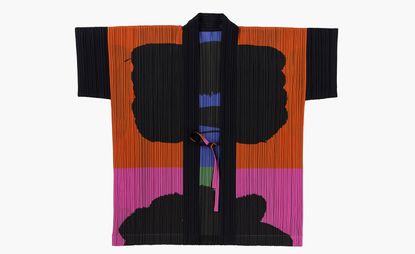 (Image credit: press)
As the distinction between fashion, graphic design and art becomes ever more blurred, Issey Miyake's latest collaborative offering revels in such indistinction. His new micro-collection is emblazoned with the graphic artwork of Ikko Tanaka, a keystone of 20th century Japanese art. Tanaka's deceptively simple oeuvre uses block colours and overlaid geometric forms to explore the boundaries of abstraction and realistic portraiture. Once art, now clothing, Miyake revitalises Tanaka's legacy in this new series of dresses, coats and bags.

Miyake and Tanaka were acquainted, and held each other's work in high regard. They met in the sixties and maintained a close friendship until Tanaka's death in 2002. Just over a decade after his passing, Miyake's reinterpretation of his work is a timely homage, from one Japanese icon to another.

Tanaka's tome Variations of Bold Symbols (1992) is a mosaic of colour blocks adorned with hand-drawn symbols. It vividly celebrates abstraction and eschews any recognisable human form. His work for the 200th anniversary of the artist Tōshūsai Sharaku's birth, however, layers circular forms into the shape of a peeping face, a traditional form of portraiture known as Okubi-e for which Sharaku earned his fame. His most famous work, Nihon Buyo (1981), blends these two modes of creation, tessellating stark geometric shapes into the abstract form of a geisha.

While Tanaka's designs are now most commonly reproduced on posters or in books on Japanese art, Miyake's creations seek to recontextualise his work, introducing the dynamism of the body to the vitality of the artist's aesthetic.
INFORMATION
The collection is available exclusively from Issey Miyake's London 'Pleats Please' store and Harvey Nichols Knightsbridge from 18 February 2016. For more information, visit the website