Issey Miyake installs pleating machine at Homme Plissé Tokyo flagship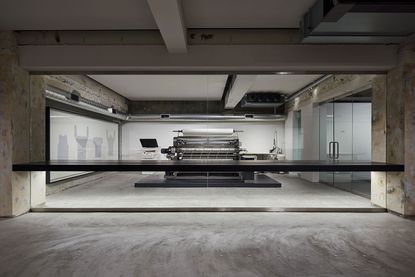 (Image credit: Yoshioka Tokujin)
The silver machine hums quietly as it sets to work: two large rolls of white paper slowly rotate as an orange top is inserted between them, its alignment guided by green lights, before emerging on the other side just minutes later – perfectly pleated. This is a spectacle that will now unfold regularly at the first flagship store for Homme Plissé Issey Miyake, which has just opened its doors in Tokyo's Minami-Aoyama district.

In a first for the Japanese brand, the pleating machine – used to create Issey Miyake's signature pleated fabric – will be on full display to customers, behind walls of glass at the rear of the store. Issey Miyake has long been famed for its pleating technology, which tends to be shrouded in industry secrecy (a pleating machine has only been on public display once before, during a major 2016 exhibition celebrating Issey Miyake's work at the National Art Center in Tokyo).

The flagship interiors were created by Tokyo-based designer Yoshioka Tokujin, a decades-long Miyake collaborator (this is, impressively, his 17th store). Fusing the high-tech with the handcrafted, the store concept was inspired by the concept of monozukuri no gemba – 'making things'. Spanning 225sq m in a 1970s building, the store covers an area where, until recently, three clothing shops were located, with Tokujin knocking down interior walls to create an open, airy space.

A sense of lightness is bolstered by raw concrete walls whose exposed markings create an almost impressionistic feel, with paint-like daubs and industrial etchings in natural shades of white, grey, cream and peach – a perfect foil for the jewel-like pops of colour from the minimally-curated Homme Plissé collections on display. Added to the mix are mirror panels; soft grey wool cubed seating; and matte black steel clothing rails – clean-lined, graphic and angular – that appear to float weightlessly in the air, alongside seamlessly swiveling hangers.
RELATED STORY
'I tried to keep the original texture of the building,' Tokujin tells Wallpaper* ahead of the opening. 'I wanted to express the feeling that time has passed. I think that designing a space is changing today because now you can buy everything online. I wanted to give value to customers coming into the shop. So I created a special space for the pleating machine, so that visitors can watch and experience the excitement of making things in front of them.'

Exclusive to the store is the limited edition COLOR collection of long-sleeved T-shirts in ten shades, with a new black 'Aoyama' logo designed by art director Katsumi Asaba on the back – all pleated on-site, behind a wall of glass. Each garment is cut and sewn to 1.5 times its final size, before being fed into the 1997 silver-painted Kyoto-made pleating. Labels are sewn in before they are wrapped in packaging made from used white pleating paper. The pleating is carried out by two Issey Miyake engineers (they normally work at Issey Miyake's Pleats Kobo – a Tokyo design laboratory devoted to fabric pleating) clad stylishly, of course, in top-to-toe pleats, from caps to jumpsuits.

The new flagship cements Minami-Aoyama's status as a mecca for all things Issey Miyake. The street is already home to over half a dozen of their stores – from Issey Miyake, Pleats Please and HaaT to Reality Lab Issey Miyake (located on the site of Miyake's first 1976 shop).
INFORMATION
isseymiyake.com
ADDRESS
3-18-14 Minami-Aoyama
Minato-ku, Tokyo
Japan