132 5 Issey Miyake brings the ancient art of Japanese itajime to new collection
Travelling to Kyoto, Wallpaper* explores the story behind 132 5 Issey Miyake's 'Triangle Dye' collection which brings a centuries-old dyeing technique – traditionally used for kimonos – to its innovative orgimani-esque designs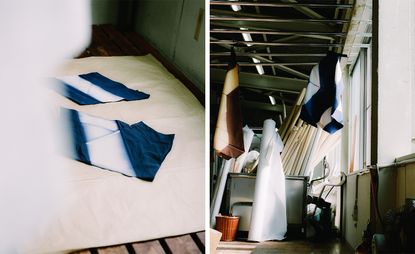 (Image credit: Stefan Dotter)
Afternoon sun filters across a workshop in Kyoto as artisan Mamoru Nohara tugs on a roll of white linen thread before winding it around two cedar boards. The fluidity of his movements reflects the four decades he has spent perfecting the art of itajime, a traditional Japanese resist-dyeing technique that involves wood being fastened around textiles to create geometric motifs. While artisans have long applied this dyeing style to kimonos, Nohara is today making something different – an abstractly asymmetrical two-tone top with spiralling panels of colour, to feature in the new collection of 132 5 Issey Miyake.
Miyake has long been a master of fusing high-tech textiles and futuristic innovations with the imperfect beauty of traditional craftsmanship techniques, typically with timeless results. And since launching in 2010, the 132 5 brand has been synonymous with creating pieces that often fold completely flat, in origami-esque complexity, yet spring open to form sculptural three-dimensional clothing.
The story behind the 'Triangle Dye' collection by 132 5 Issey Miyake
The 132 5 Issey Miyake A/W22 collection features a trio of garments (top, trousers, coat), collectively called 'Triangle Dye', all dyed in three bold colour combinations by itajime artisans in Kyoto. Unlike traditional itajime, the new 132 5 Issey Miyake pieces are crafted in Issey Miyake's signature recycled polyester, made from plastic bottles. The colour combinations include chocolate brown on a soft yellow undyed base; deep, nearly-black green on fiery orange; and indigo blue on light grey. The release of the clothing this August also coincides with a special exhibition highlighting the itajime process and collaboration at the Issey Miyake Kyoto flagship's Kura gallery, with further events also scheduled in Taiwan.
'The theme for this new collection is rotation,' says one designer at 132 5 Issey Miyake – who speaks anonymously, as is often the case at the brand. 'For example, the world turning, a spinning top or a falling snowflake, which is a hexagon of rotational symmetry. These three itajime pieces are inspired by the triangular shape of a spiral staircase that swings around. When folded, the dyed parts appear as straight lines, but when they are opened, they form hexagons.' She adds: 'Issey Miyake has always respected traditional artisans. Merging traditional crafts with what we are doing – folding and using a modern polyester material – creates a new way to express the beauty of itajime.'
The pieces are created at a decades-old Kyoto company specialising in all things itajime. For the 132 5 Issey Miyake pieces, loose white stitching is first attached to the surface of the folded origami-style pieces to mark the positioning of the wooden boards and the subsequent dye lines. Kneeling at a low table, Nohara aligns these markings with two wide pieces of sugi cedar on both sides, before pulling out the thread and holding the boards in place with temporary fastenings. Between the textile and the boards are strips of white cotton, to protect the textile from splinter damage or oils released from the woods.
Then the fun begins: Nohara moves to a nearby U-shaped wooden contraption, which brings to mind a modified church pew. Just in front of its in-built seat is a wooden panel with a metal hook holding a roll of linen thread. Settling onto his green chequered cushion, Nohara pulls the string with unexpected strength, triggering a loud creaking sound in the process, before winding it three times around each end of the boards. Two thinner boards of hinoki cypress are then positioned on either side and fastened tightly, to hold it all in place.
'I've been doing this since I was 23 years old,' says Nohara, who is now 63. 'It took me ten years to master. At first, it was very painful for my body and joints. Everything was so hard. The most important part when dyeing kimonos is making sure that the boards are correctly positioned and the lines are separated properly.' Referring to the 132 5 Issey Miyake collaboration, he smiles: 'This is completely different from making a kimono. It's a different way of dyeing, and the material and design are also different. But the end result is very beautiful – as you would expect, as this is Issey Miyake. I'm very honoured to be a part of this process.'
The next step is the dyeing, which takes place on the ground floor of the workshop, a warm, buzzy industrial space packed with large washing machinery and a tangle of ceiling pipes. Here, third-generation dyeing specialist Tadahisa Shigeno first places the board-wrapped clothing in long tubular washing machines, filled with cold water, for 24 hours, the release of small bubbles reflecting the slow penetration of water into all of its layers.
Next, Shigeno demonstrates his dyeing alchemy, mixing a sprinkling of yellow, blue and red powders into a pot, which will transform the exposed parts of the yellow textile into the desired shade of brown. The mix is then poured into the washing machines, where the boarded fabric is placed for up to 40 minutes in temperatures of around 130 degrees Celsius.
'I really need to think about the materials because the amount of dye or how the dye is absorbed varies,' explains Shigeno, whose artisan grandfather first collaborated with Issey Miyake 20 years ago. 'Once polyester is dyed, you can't really make the colour lighter. But with cotton, you can make it lighter.
Next, the clothing is dried in the warm dry heat of a sauna-style room, still fixed between its boards, to hold all the fold lines in place. Finally, the boards are untied and the product is revealed (the last part of the process, which involves using a special heat-pressing technique to secure the folds, takes place at another factory). The three final pieces are innovative and avant-garde: echoing the rotating cuts are angular expanses of colour, their edges softened by the organically irregular blurring of the dye lines. Shigeno uses the word guzen – meaning luck or chance – to describe the outcome, reflecting the element of surprise in the end result.
'I've been doing this for about ten years,' he says. 'With itajime, it's really difficult to control everything, to get the exact result that you want. Sometimes the patterns come out unexpectedly, or something happens by mistake. But when something doesn't go as planned, the Issey Miyake team normally love it. They find it beautiful.' He adds, 'Which is great, but it can also be hard to recreate again.'
The 132 5 Issey Miyake design team member echoes the attraction to the element of unpredictability, which ensures each piece is entirely unique. 'The very first time I see a piece I always feel excited,' she says. 'It's nerve-wracking as I have no idea what the end result will look like. But that's the beauty of it – the element of surprise. Finding something I didn't expect, but seeing beauty in that.'
INFORMATION
'Triangle Dye' will be showing at Issey Miyake's Kura gallery in Kyoto from 1-28 August
A version of this article appears in the August 2022 Design for a Better World issue of Wallpaper*, available in print, on the Wallpaper* app on Apple iOS, and to subscribers of Apple News +. Subscribe to Wallpaper* today!