2019 winners of H&M's Global Change Award announced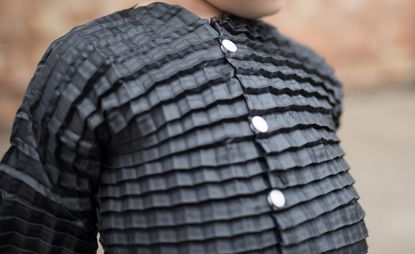 (Image credit: hmfoundation.com)
In its fourth year, the Global Change Award initiated by the H&M Foundation has been digging for talents from around the world to change the game in terms of innovation and technology, and to work towards a more sustainable future. Counting winners such as Orange Fibre, a fabric made from citrus waste, and Vegea, a vegan leather using leftovers from the wine industry, both featured in our March 'Style Special' issue (W*240), the Awards bring together a panel of experts and valuable partners to act as a catalyst for great ideas to grow and thrive.
Crowned in the impressive Stockholm City Hall earlier this month – also home to the Nobel Prize ceremony happening in December – this year's five finalists were selected amongst 6,640 participants from across 182 countries and have shared €1 million grant given by the H&M Foundation to bring their innovations to the market in a short amount of time.
The Award encourages collaboration between a myriad of experts to find solutions to the damaging effects of fashion on the environment, and champions the move into a circular economic model of consuming fashion, where materials are reused instead of being wasted. Change needs to happen fast since, as the Intergovernmental Panel on Climate Change (IPCC) report showed last year, we only have 12 years to reverse climate change.

'We all need to come together, bringing all our different expertise and plugging into this circular system,' said Rebecca Earley, Professor of sustainable fashion Textile design at UAL who moderated the event. 'We have the knowledge, we have the innovation, we have the awareness but we now all need to work together to create change.'
In addition to the grant and a one-year accelerator program, the H&M Foundation has teamed up with crowdfunding platform Indiegogo (opens in new tab) to involve the public who is now also able to support the winners, test their ideas and give them instant feedback. 'The community of designers and thinkers that the Foundation has cultivated matching with the community of campaigners that Indiegogo has brought together puts the finalists in alliance with even more change-makers to be a force for good,' said Sarah Meister, hardware, design and technology growth manager at Indiegogo.
Taking the third place, three finalists have received €150,000 each for their ideas. First one up is Green Nettle Textile, a linen-like, natural fabric made out of nettles in the steep and rocky slopes of Kenya, providing small farmers with extra income and opportunities, while also being environmental friendly and requiring very little water to be produced.
Local natural resources are also the focus of Le Qara (opens in new tab) who created a vegan alternative to leather – which is able to perfectly imitate its texture, colour and thickness – made with Peruvian flowers and fruits. Finally, UK-based label Petit Pli (opens in new tab) presented kids outfits made of recycled polyester and inspired by origami that 'grow' with the child to fit his size until the age of four, making it a durable garment that can be reused over and over again. Founder Ryan Yasin insists that the idea isn't limited to children wear and that they will soon expand to more diverse designs.
Swiss company dimpora (opens in new tab) took home the second prize and a €250,000 grant with its Sane Membrane, a non-toxic, mineral-based and biodegradable solution to be used on outerwear garments, which protects the wearer from any weather condition in a sustainable way.

Building on the circular model, the winner of the €300,000 grant, circular.fashion (opens in new tab), developed a softwear that acts as a digital identity added on the clothes' labels to give brands the opportunity to design with recyclability in mind, just as it gives consumers the keys to reuse and recycle their garments more efficiently. 'The great benefit for the customers is a transparent decision-making tool and also how they can contribute to a circular economy,' explained one of the company's founder Ina Budde. 'Winning the Global Change Award and the grant money is very helpful to further develop and streamline our platform, but also to keep our independency.'

Small start-ups can sometimes hit a wall when it comes to funding, and a platform such as the Global Change Award is a powerful initiative to raise interest and receive visibility in the industry. 'It's now up to the industry to be bold and pilot these innovations with customers in a commercial context,' added Erik Bang of the H&M Foundation. We can't wait to see what's next for them.
INFORMATION
For more information, visit the H&M Foundation website