Body talk: artist Giuseppe Palmisano on photographing the female form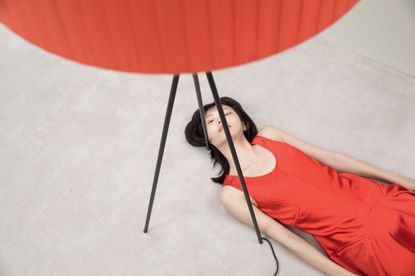 (Image credit: Giuseppe Palmisano. )
Giuseppe Palmisano grew up surrounded by fantastical stories. His childhood in Puglia was marked by encounters with local traditions and folklore, Catholic symbols and religious rituals. Theatre and performance were intertwined with everyday life — and moving to Rome to where he join a theatre company was natural for Palmisano, who lived a nomadic existence for a while.

He abandoned his training, however, at 20, and turned his form to a more critical, distant kind of dramatisation — photography. He started to take pictures of women and explore the relationship between their bodies, space, and the unseen sensations they stir up; unusually for a male photographer, though, his aim has never been to eroticise the nude female subject. Women have continued to be a preoccupying theme for Palmisano and play a central role on his stage set for the camera.

Palmisano's aesthetic—instantly recognisable, drawing on strands of Surrealism and Minimalism manners — has also remained consistent. 'I know exactly what I want', the photographer explains enthusiastically, 'I surround myself with what I like. Usually I try to stick to simple rules: simplicity and harmony. I try to make things happen by inserting a disturbing element into something linear.'

Palmisano has amassed a cultish following on Instagram and has couple of publications and exhibitions to his name, but he had never worked on a fashion editorial until he was approached to do a shoot for the October issue of Wallpaper* (W*235).
To create the images for the story Palmisano, 'used two or three furnishing objects and, of course, the clothes. I really enjoyed my time with the whole team.' Making a selection of 'literally everything,' they shot, Palmisano says when it came to editing 'I tried to recall many things, such as the unexpected positions I usually capture in my photos, but this time I tried to exasperate them and make them even more weird.'

His theatre training possibly helped with the new challenge of directing a whole team — usually, he says, it's just him and his camera. Since his models are usually nude, working with clothes presented a new challenge, 'but I have to say that it was even more fun because that situation allowed me to play in a different way.'

The shoot was an audacious step for an artist who has never ventured into fashion editorial before, but Palmisano isn't afraid of experimenting. 'I have always tried to avoid monotony: that's the reason why four years ago I sold my camera and I still go around without any, doing very little actual photographic work. I experiment with different media. I try to avoid becoming the "industry of myself" and produce what I already know people like. If sometimes it seems like I'm repeating myself, what I'm actually doing is trying to subvert this mechanism!'

While theatre and dance continue to inspire the artist, 'what makes me really emotional and what I try to translate into my art is a mixture of sensations and visions: it's life, the everyday life. I'm an excellent observer, maybe that's why my eyes are so big — and the reason why I have such big and dark circles under them!'

You can see more of Palmisano's recent work at a very personal installation, presented in London at the beginning of 2019.

As originally featured in the October 2018 issue of Wallpaper* (W*235)
INFORMATION
For more information, visit Giuseppe Palmisano's website (opens in new tab)
Charlotte Jansen is a journalist and the author of two books on photography, Girl on Girl (2017) and Photography Now (2021). She is commissioning editor at Elephant magazine and has written on contemporary art and culture for The Guardian, the Financial Times, ELLE, the British Journal of Photography, Frieze and Artsy. Jansen is also presenter of Dior Talks podcast series, The Female Gaze.