In memoriam: Ettore Spalletti (1940-2019)
The celebrated 'painter of light' has passed away aged 79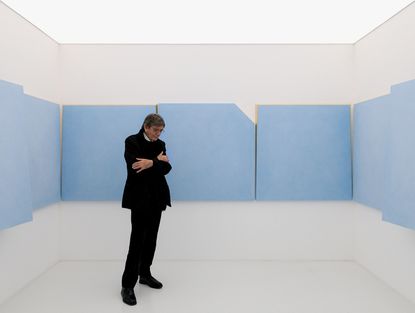 (Image credit: Matteo Piazza)
He was always 'somewhat of an outlier in the story of 20th-century Italian art', but the artist Ettore Spalletti, who died aged 79 after suffering a heart attack at his home in Spoltore on the afternoon of 11 October, according to Italian newspaper il Centro (opens in new tab), was revered in Italy and celebrated abroad as the 'painter of light'.

The artist leaves behind an indelible imprint on the collective conscience, in the signature palette of gentle blues, greys and pinks he used to slowly and methodically cover his sculptures and canvases. Applying layers of paint for up to 20 days, the resulting colours are not mutable, giving his works the 'ability to transform any environment they inhabit'.
His practice was in keeping with the rhythm of his almost monastic life in Spoltore, Pescara, just five kilometres from Cappelle Sul Tavo – the town of his birth in 1940. Spalletti, unlike many internationally successful artists, never left Abruzzo. In a May 2016 interview with Wallpaper* (see W*206), Spalletti described sitting for hours watching the light move in his studio. Viewing his works — which often bathe the spectator in colour — recreates this effect of being suspended in time, watching clouds pass or rays of sun play their optical tricks.

As a man, Spalletti may have been contemplative and quiet, but that didn't mean that as an artist he was detached. He was equally inspired by the people he met as he was by the mountains and the Adriatic coastline – landscapes that informed the atmosphere and light in his works, not unlike Turner, who Spalletti admired. There is an embracing warmth to his works, whether it's strips of gold-leaf applied to the canvas or the fleshy-pink tones of columns that the artist says refer to the human figure.
RELATED STORY
Spalletti attended art school in Pescara and was active as an artist from the 1970s, though he took a different path to his arte povera peers. He was unique, but successful early on, participating in Documenta in 1982 and later in 1992, in Kassel, Germany, and exhibiting at the Venice Biennale four times between 1982 and 1997. His refined vocabulary and clean lines meant Spalletti was frequently aligned with American minimalists, including a 1993 exhibition with Haim Steinbach at the Guggenheim Museum in New York. In 2014 his importance in shaping the discourse of contemporary art in Italy was recognised in a major three-part retrospective that took place at the MAXXI, Rome; the Museo MADRE, Naples; and the Galleria di Arte Moderna, Turin.

Other important moments in Spalletti's 40-year career included a 2004 solo exhibition at Castello di Rivoli Museum of Contemporary Art, and in 2005 at the Henry Moore Institute, Leeds. He was also commissioned, in collaboration with his wife, the architect Patrizia Leonelli, to convert a building at Villa Serena, Pescara, into a chapel, completed in 2016. Earlier this year, Spalletti was the subject of a retrospective at the Nouveau Musée National de Monaco.

Spalletti was known for his 'good manners, a quiet voice and a light step' – qualities he attributed to his love of poetry and literature. He will also be remembered for the sublime elegance of his works, their colours extending into the infinite.
INFORMATION
mariangoodman.com (opens in new tab)
Charlotte Jansen is a journalist and the author of two books on photography, Girl on Girl (2017) and Photography Now (2021). She is commissioning editor at Elephant magazine and has written on contemporary art and culture for The Guardian, the Financial Times, ELLE, the British Journal of Photography, Frieze and Artsy. Jansen is also presenter of Dior Talks podcast series, The Female Gaze.